Magnificent Muscari – Blooming Now!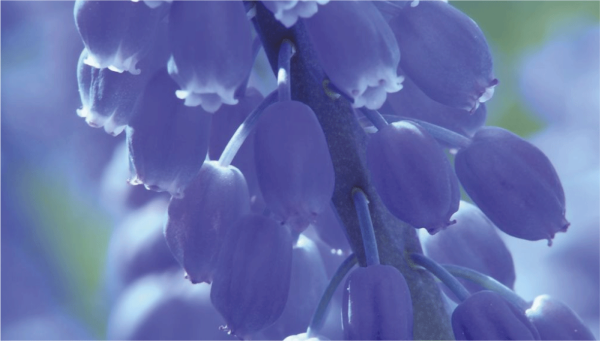 Commonly known as grape hyacinths, muscari are small flowers that are big on style. These fall-planted bulbs produce charming spring flowers in beautiful hues of blue and purple. They are perfect for containers, borders and combine well with most other spring-blooming flowers and plants.
Muscari in the Garden
Most muscari are about 6″ tall, so to make a big impact, it's best to plant them in large groups. One of the most stunning displays of muscari in the world is at the Keukenhof gardens in Holland. If you have never experienced this spring-blooming wonderland,  you will want to put it on your travel bucket list!
The Keukenhof is located in the Netherlands, in the City of Lisse. It occupies about 79 acres of land and there are approximately 9 miles of footpaths through the blooms and scents of bulb gardens at their grandest.
Though the plantings change every year, there is always a mass planting of muscari, planted like a river in an opening between the trees. You may never be able to plant this many muscari in your own garden, but it's inspiring to see what an incredible impact it can have.
On a smaller scale, we can create our own little 'streams' of muscari and still enjoy the role that this little flower can have in our gardens and landscapes.

Muscari can be planted to soften the edges of borders and walkways, and to create graceful transitions between plantings.
Muscari in Containers
Grape Hyacinths are simply charming in containers. Make sure they get a cold winter nap, with temperatures of about 40 degrees for 12-15 weeks. Then move them to a cool, but bright location an water lightly until they bloom.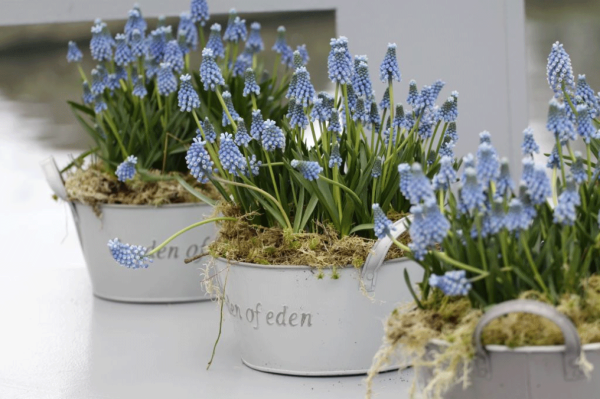 A charming arrangement of muscari 'Valerie Finnis' in little white containers with moss makes a perfect party centerpiece and gift.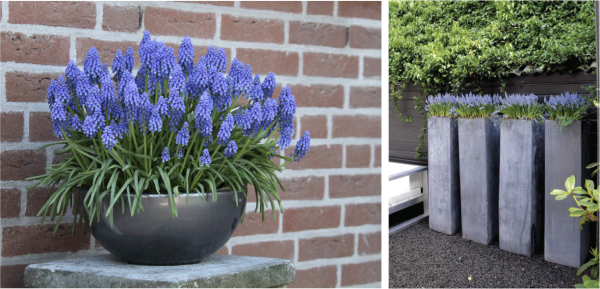 Planted alone in larger containers, muscari adds style to outdoor spaces with pretty purple blooms and gracefully cascading foliage.
Muscari with Other Spring Bulbs
Since they are low-growing, grape hyacinths make perfect companion plants for taller spring-blooming bulbs. In landscaped areas and flower gardens, you can create layers of color by planting muscari in front and taller plants behind.
For a more naturalized look, planting the bulbs between shrubs and mid-size perennials will give your garden a casual, create a cottage garden feel.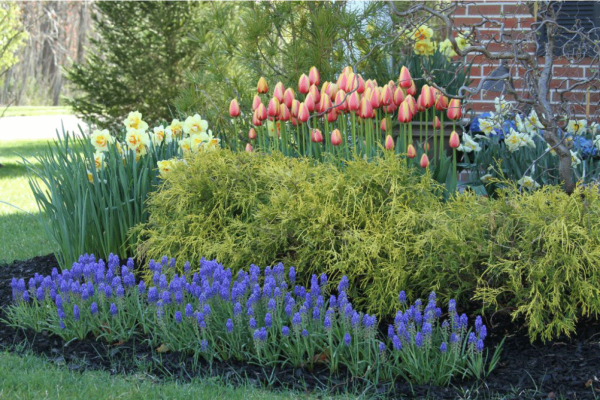 Choose flowering bulbs that are taller than muscari to create a layered look. This composition is pleasing to the eye and adds curb appeal to your home.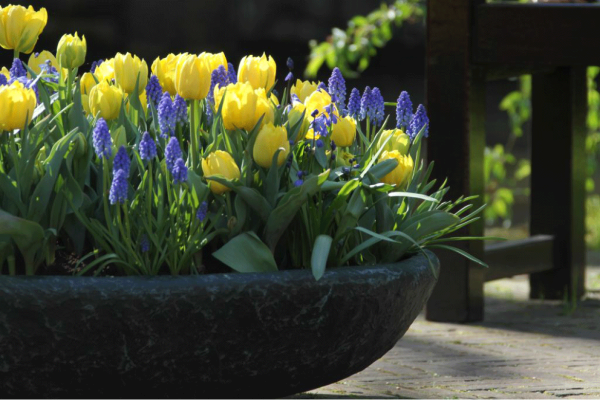 Plant muscari among taller blooming bulbs for a more natural, less formal look in containers and landscapes.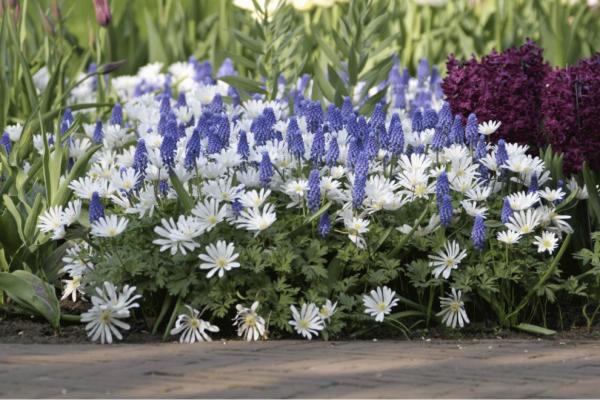 Muscari bulbs can also be planted into ground covers and areas with low-growing perennials such as these anemone blandas.
To shop our complete selection of muscari bulbs, which are available for planting from September through November, click HERE.