Field to Vase Event Celebrates Locally-Grown Cut Flowers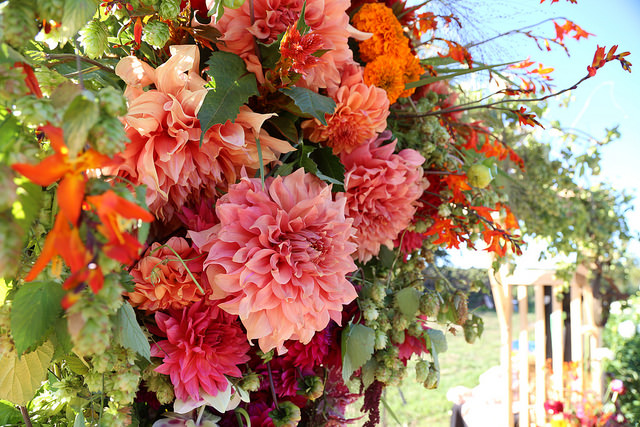 Recently, Longfield Gardens sponsored an event that is very dear to us – supporting American grown cut flowers. The Field to Vase Dinner was held in Mt. Vernon, Washington, about an hour and a half north of Seattle.
As I drove to Jello Mold Farm, I couldn't wait to see the beautiful fields of dahlias, zinnias and other plants grown for florists across the Pacific Northwest. My one marker to find the farm? Copper jello molds in all shapes and sizes, nailed to a power pole by the entrance. When the owners of Jello Mold Farms, Diane Szukovathy and Dennis Westphall, lived in the city, they had dreams of owning a farm filled with cut flowers. Their dream became reality in 2002. They own a sustainable, organic flower farm that provides cuts of multiple plants to florists throughout the region.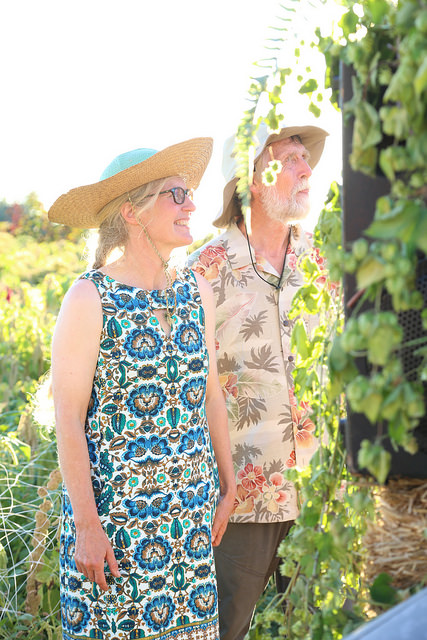 Jello Mold Farm owners, Diane and Dennis
The Field to Vase Dinner, coordinated by the Certified American Grown brand, is a series of dinners that have taken place across the country to highlight local purveyors from flower farmers to florists. Gardeners grow flowers to enjoy in their homes and gardens, but when we buy cut flowers we should be mindful where they come from just as we are with our food.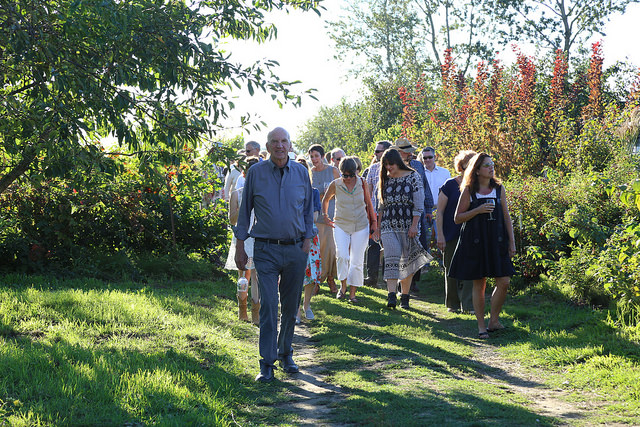 The evening started out as we walked through the fields on Jello Mold with a glass of vino in one hand and a camera in the other. Diane and Dennis gave us a tour of the farm to show off the diversity of plant life and the wildlife that call this place "home." The couple strongly believes in land stewardship and out of the 7 acres they own, a fourth of it is considered wildlife habitat. To them sustainable growing is not just about the freedom from toxic chemical fertilizers, but a responsibility to reinvigorate the land.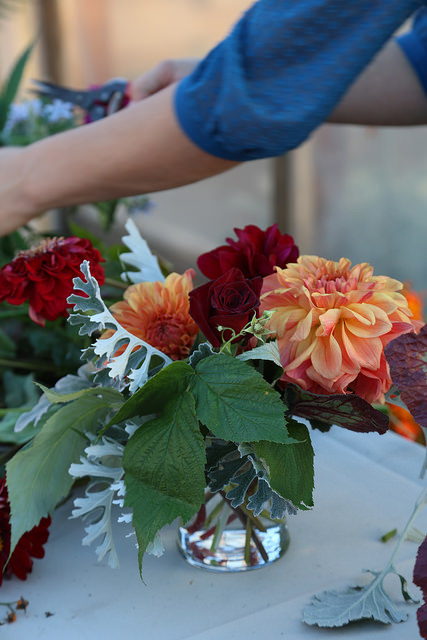 Afterwards, Melissa Feveyear, Owner of Terra Bella Flowers and the featured florist for the dinner, demonstrated how she created her gorgeous, jewel-toned table runner centerpieces; more than 100 of those flower arrangements later became parting gifts for each and every attendee. She incorporated flowers not just from Jello Mold's fields, but also harvested from 10 other Northwest flower farms who are members of the Seattle Wholesale Growers Market, a growers' cooperative that supplies the local floral industry. Melissa, with a degree in Environmental Science, started working in the field after graduation. Becoming aware of the immense amount of pesticides used by cut flower growers, she could no longer sit and be on the sidelines. Melissa decided she would prove to florists across the country that sustainable growing practices were just as important in their line of business as any other. With that, she became the proud and successful owner of Terra Bella Flowers.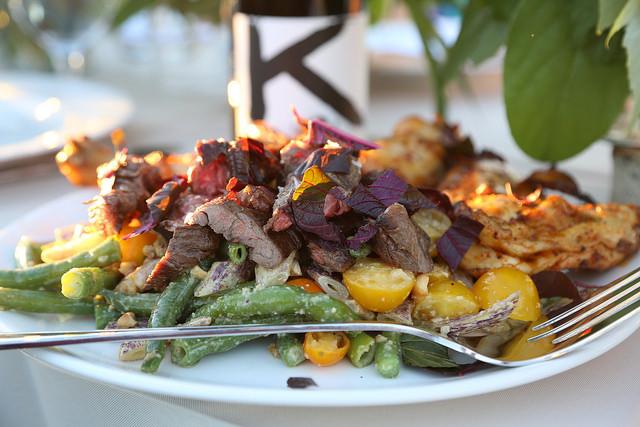 For dinner, we were treated to a 5-course meal from Chef Erik Johnson of Capitol Cider, which included everything from Asian pear salad with chicories to leeks with pumpkin seed pesto. Multiple items were collected from the farm and used in his dishes such as the Asian pears, amaranth and pumpkin. Wines and ciders were served from local purveyors. From the florist to the chef, it was prominent that they were influenced by Jello Mold and it showed amazing creativity in their designs and cooking.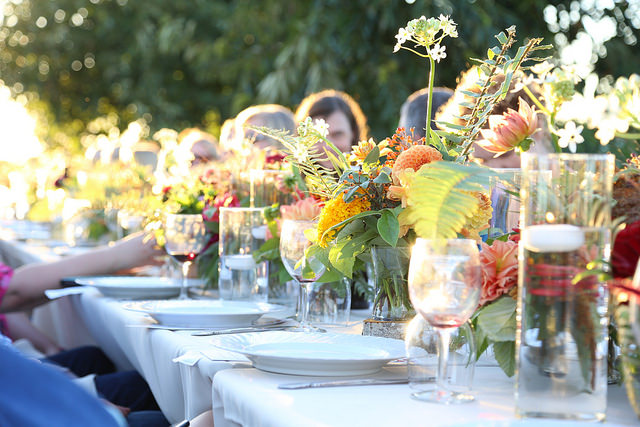 As night fell, the gorgeous sunset over the scene was the perfect nightcap to our evening. We walked to our cars by candle lit path and received a gift bag as we exited with hugs and thanks. Each bag included a 10-pack of tulip bulbs from Longfield Gardens. The varieties given all make ideal cut flowers including: 'Ad Rem', 'Purple Lady', 'World Expression', 'La Courtine' or 'Dordogne'. It was a night and evening that I will never forget and will look fondly to for many moons to come.
To learn more about dates and locations for the Field to Vase Dinner Tours, click here. For more photos of the event, click here. Photography by Linda Blue.