"Gardening Makes the Best Snow Days"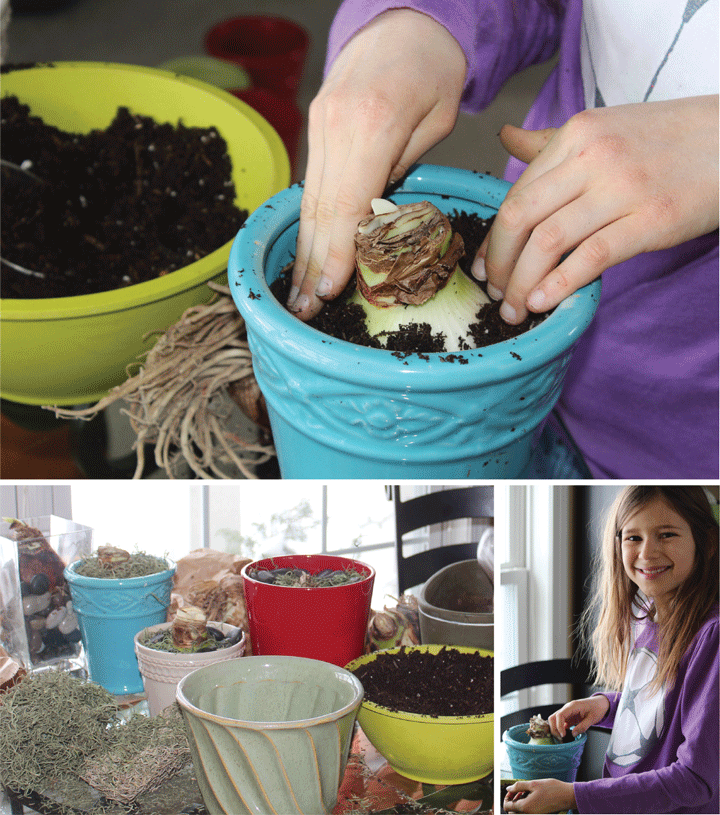 If you live in an area where winter has been 'exciting,' you are no stranger to snow storms. If you're a parent of school-aged children, you are also familiar with what snow days can do to your previously well-planned day.
As a full-time work at home parent, a snow day for me means my children have ice cream for breakfast, wear pjs until the afternoon, play in the snow, build forts, and watch tv all day. My boys are almost teenagers and they are happy doing their own thing with their friends. My youngest is only 8 and she is definitely a 'Little Mommy.' Nothing brings out my inner control freak faster than when I hear the words "Mommy can I help?" Those four words mean I have to tame the Type A and let her help me because 1) she needs to learn to be a self sufficient adult someday and 2) I always learn something amazing from her point of view. This latest project was no different.
In my office I had amaryllis bulbs that needed to be planted in pots. She really wanted to do it so I let her pick the pots from my shelf while I pulled out a bag of soil. She opened each bag to inspect every bulb and organized them by bulb size, being especially impressed by the biggest ones. We talked a bit about the parts of a bulb, how it should be planted and why we plant it that way. Amaryllis are so easy to grow, I explained it to her once and she planted all six bulbs by herself. I am so happy she is growing up with the same love of gardening that I have.
When she was done she did a cartwheel in my office, bounced over to me, gave me a big hug and said "Gardening makes the best snow days!" I hugged her back tightly and replied "Well said little lady."