Growing Elephant Ears in Your Home and Garden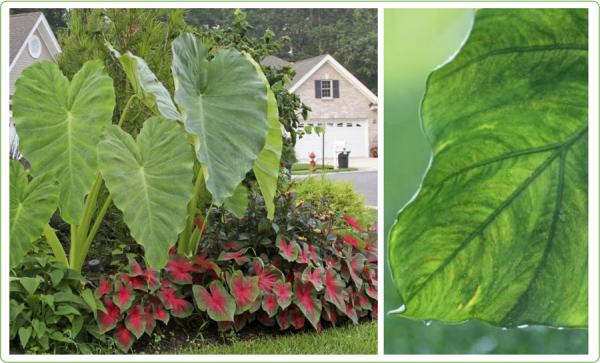 WHAT ARE ELEPHANT EARS?
The plants we know as elephant ears come from two tropical plant species: Alocasia and Colocasia.  Both are heat-loving foliage plants that grow from fist-sized tubers.
In home gardens, elephant ear tubers are planted in the spring after the soil is warm and there's no danger of frost. The tubers can be slow to get started, but once the soil and air temperatures warm up, they quickly grow into impressive plants. Whether you grow elephant ears in a garden, in containers or anywhere around your yard, these big-leaved tropical plants always make an exciting addition to the home landscape.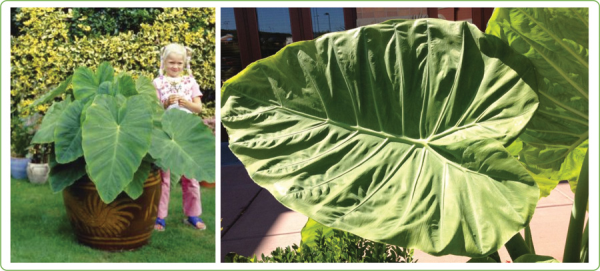 You can instantly tell why these plants are called elephant ears, simply by looking at the leaves. Most alocasias hold their leaves upright, with the tip of the heart pointing up. Colocasias have a bushier habit and the leaves are usually displayed with the bottom of the heart pointing down.
Elephant ears grow well in sun or shade and they won't wilt in summer heat and humidity (as long as you keep them watered!). Though colocasia and alocasia do not bloom, their foliage can be just as impressive as any flowers. If you want an easy plant with a big impact, elephant ears will not disappoint!
MORE THAN AN OUTDOOR PLANT 
Upright Alocasia also make good houseplants as long as you give them enough water and light. As indoor plants, they add warmth, style and comfort to your home. Like other houseplants they will also improve air quality and feelings of well being.
When warm weather arrives, simply move your alocasia back outside to the patio or porch. Whether you are growing elephant ears indoors or out, they are always a distinctive and memorable feature around your home.
A FEW BASICS
When growing elephant ears, be sure to start with a large tuber that is heavy and firm. Plant it pointy side up, about 2″ below the soil surface.
Elephant ears grow fast and can get very large. Plan ahead to make sure the plant has enough space to reach its full potential. Depending on the variety, it could reach 4 feet wide and 6 feet tall by the end of the summer.
If you plant the tuber in a container, choose one that has enough room to accommodate a big root ball. Remember that the larger the pot, the less often you'll need to water.
For more detailed growing information, read All About Elephant Ears.