Home Grown Strawberries and a Recipe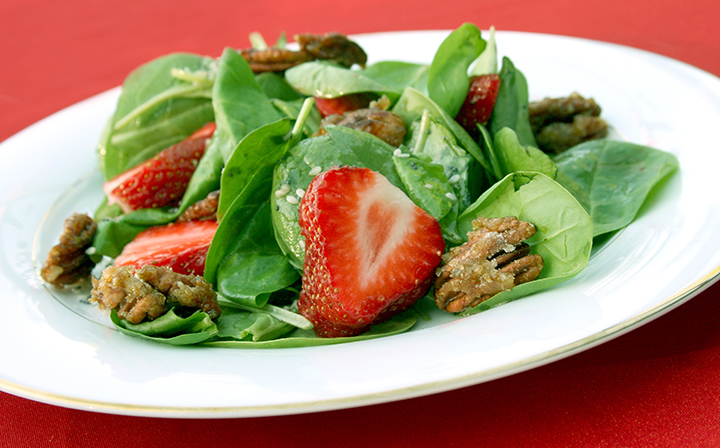 I love summer produce, the farmer's market, tomatoes warmed by the sun and growing my own fruits and vegetables! I am always looking for new recipes based on what's growing in my raised beds and patio. Last year I successfully grew strawberries and I was on the hunt for a fantastic recipe for my delicious bounty.
I made a spinach salad with balsamic dressing, sesame seeds, strawberries and feta cheese, but it was missing something. The next time my strawberries were ready for harvest, I was ready with a new spin on my spinach salad….I added home made candied walnuts! This recipe was so simple and it added the crunch the spinach needed and went perfectly with the tart balsamic dressing and sweet strawberries. Here's the simple recipe for candied walnuts that took me about 10 minutes from start to eat!
Quick Candied Walnuts
2 cups raw walnuts

¾ cup dark brown sugar (do not pack)
Line a baking sheet with parchment paper. Mix the brown sugar and walnuts in a large pan and cook over medium heat on your stove top. Stir the brown sugar and walnuts together as the sugar melts, coating the walnuts completely; about 5 minutes. Do not overcook or burn. Remove from the heat and spread over the lined baking sheet. Allow them to cool and they are ready to eat!
TIP: The warm sugar coated walnuts will cool quickly, so spread evenly over the parchment paper before they cool to prevent clumping.
If you haven't had much success with patio strawberries, I suggest you try a larger pot. Our pot is large and includes a watering mechanism that will evenly distribute water to your plants for better success. Normally, our Strawberry Pot Starter Kit sells for $74.95. For this week only we are offering it for $47.50. That's an amazing deal you won't want to miss! It comes with a large clay pot (see below), 15 bare root Ozark Beauty Strawberry plants and our patented internal watering mechanism.
Summer tastes better when it's home grown! See our full collection of fruits and vegetables for your summer garden.