New Tulip Bulbs for Fall 2016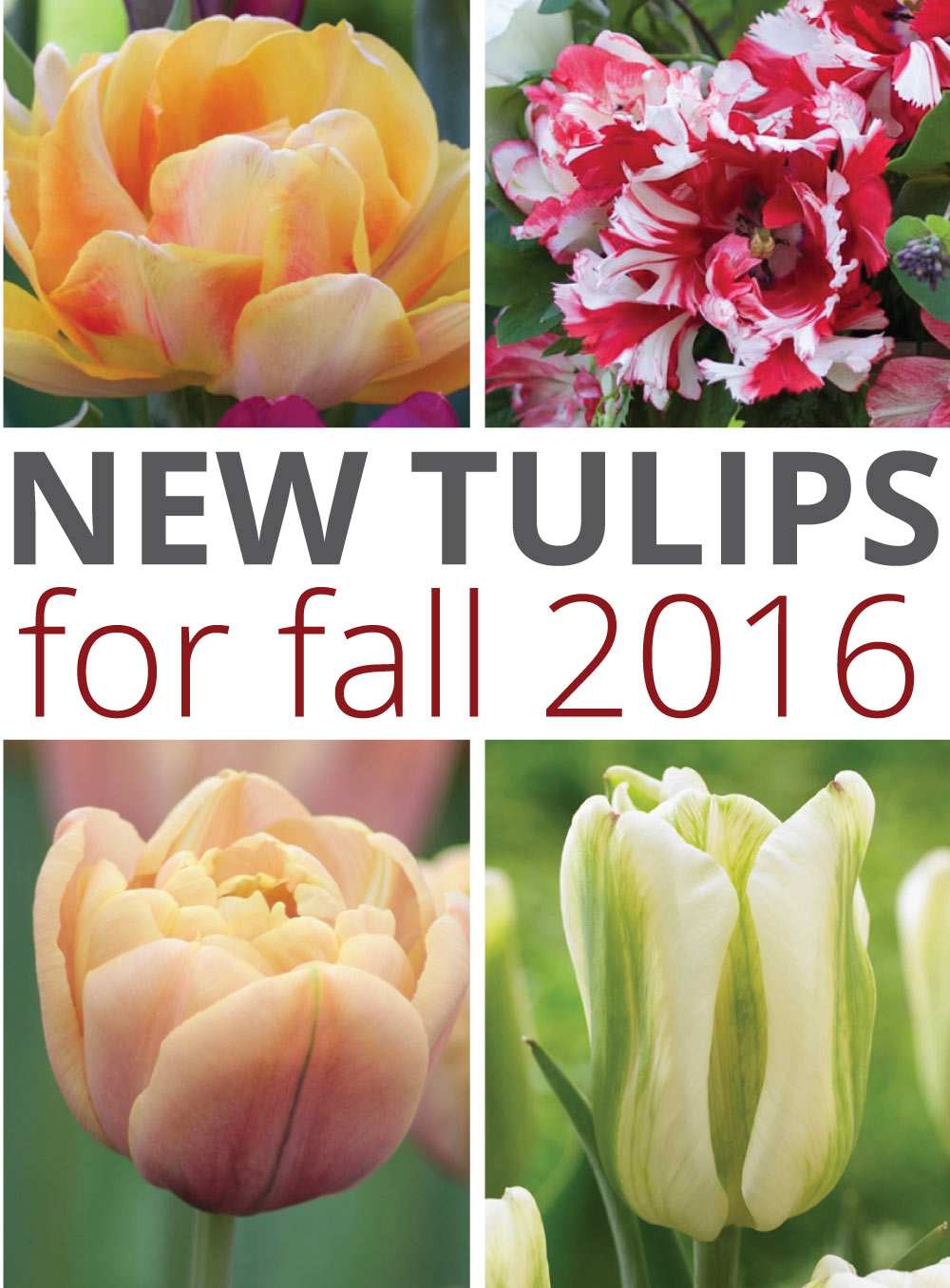 Tulip bulbs make it easy to paint a masterpiece with spring-blooming flowers. This year's lineup of new varieties offers some unexpected color combinations and unusual flower styles that are sure to inspire your creativity.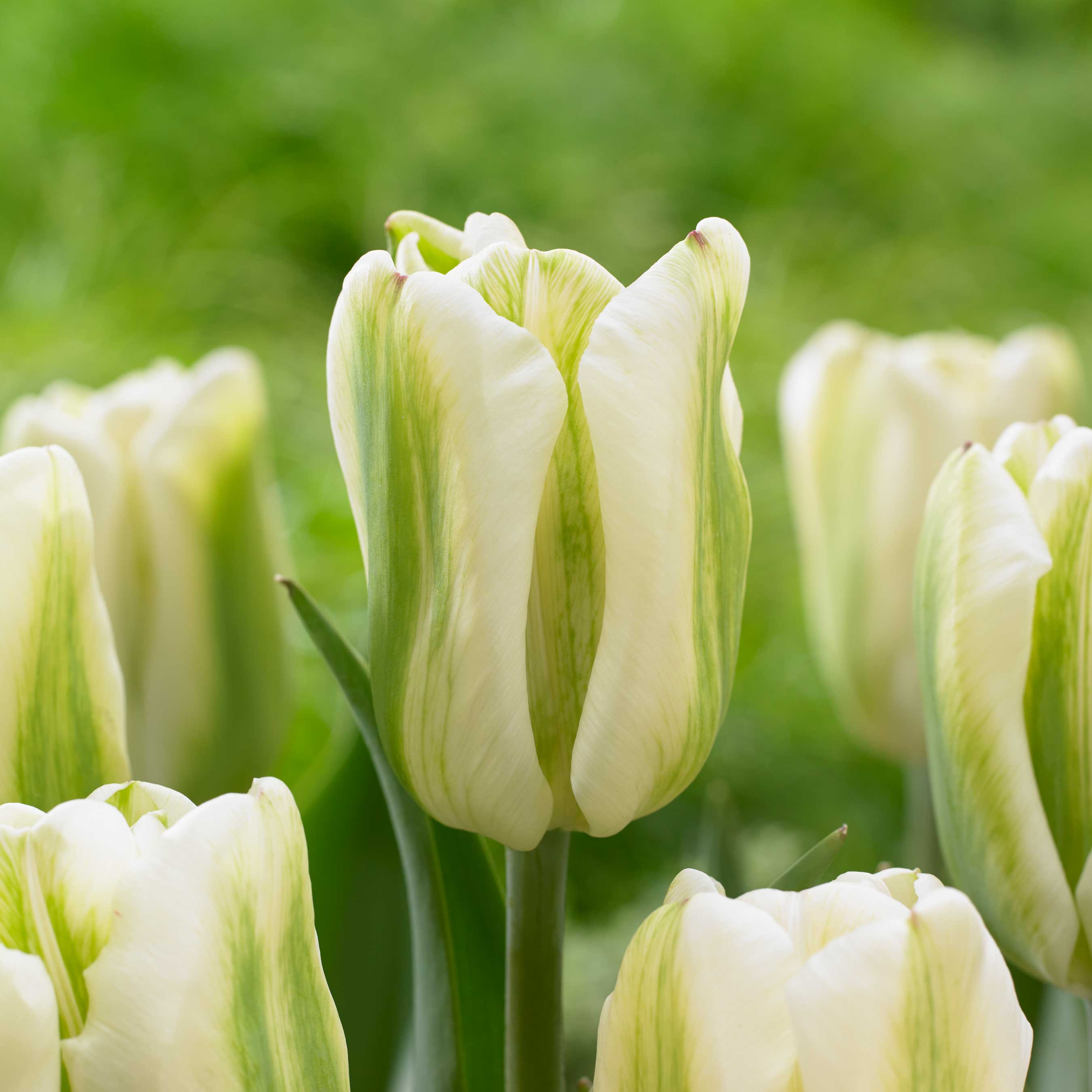 Artists, florists and garden designers have long been fans of viridiflora tulips, which have green highlights on their outer petals. Green Spirit is the first triumph tulip to feature these distinctive green markings. The flowers (shown above) have thick, ivory-white petals that are brushed with bold, lime green stripes.
As with other triumph tulips, Green Spirit's blossoms are large and the colors are strong and clear, which makes them ideal for gardens and cut flower arrangements. When mixed with bright colors, the green flowers add a note of coolness and calm.
We plan to pair Green Spirit with deep purple and burgundy tulips; with pastel pink and bright orange. In fact, it's hard to imagine any color that wouldn't look great with this new tulip. As with all of our new fall bulbs, you'll need to order this one early as we expect to sell out.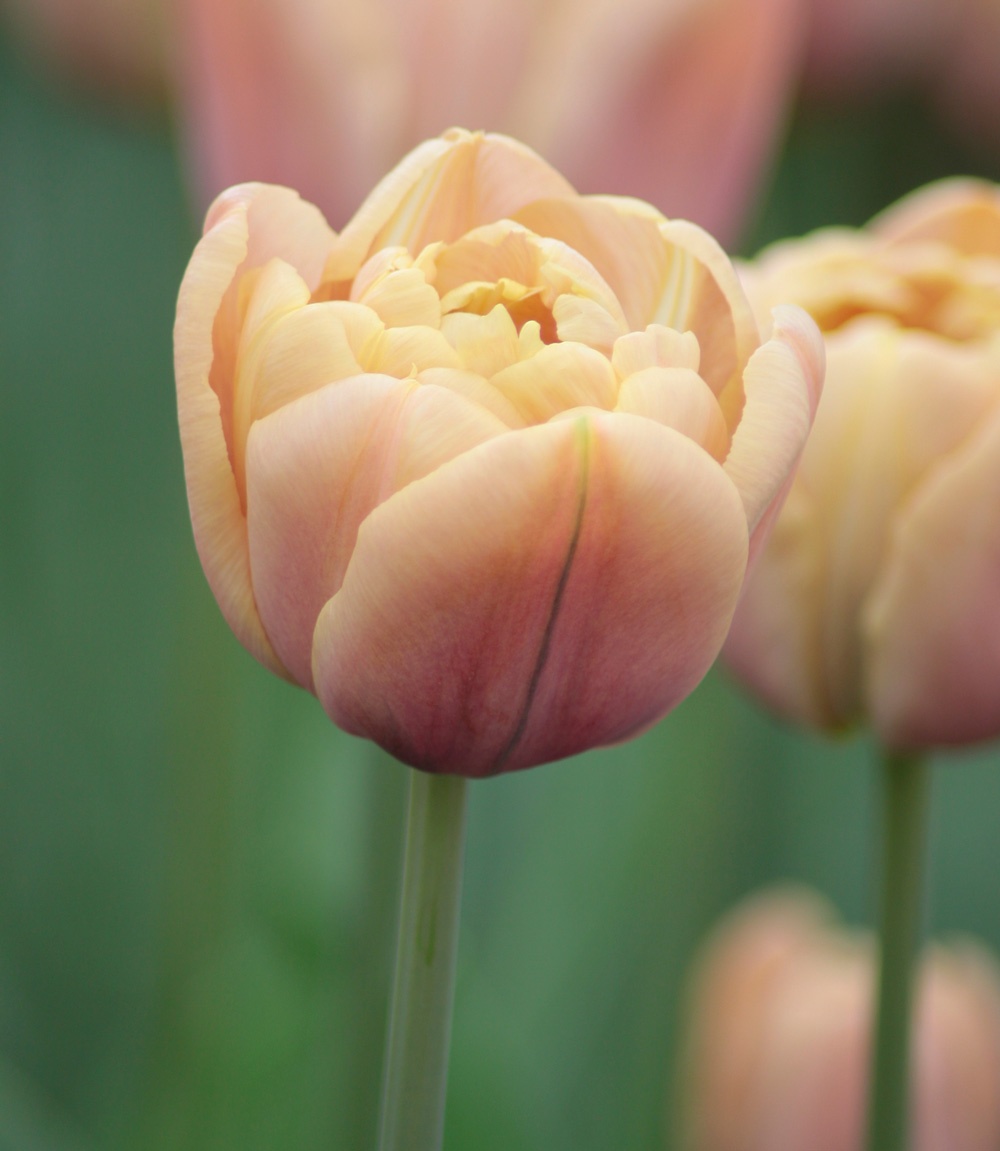 La Belle Epoch. Like the dinnerplate dahlia Cafe au Lait, this new tulip is rapidly becoming an "it" flower for weddings and special events. The unusual color is best appreciated up close and could be described as a swirl of antique rose, peach, butterscotch and cream.
The blossom's muted colors and soft texture make it a great mixer, and it can transform an ordinary flower arrangement into one that's dripping with golden age splendor. (Photo below from Bathtub Gardens).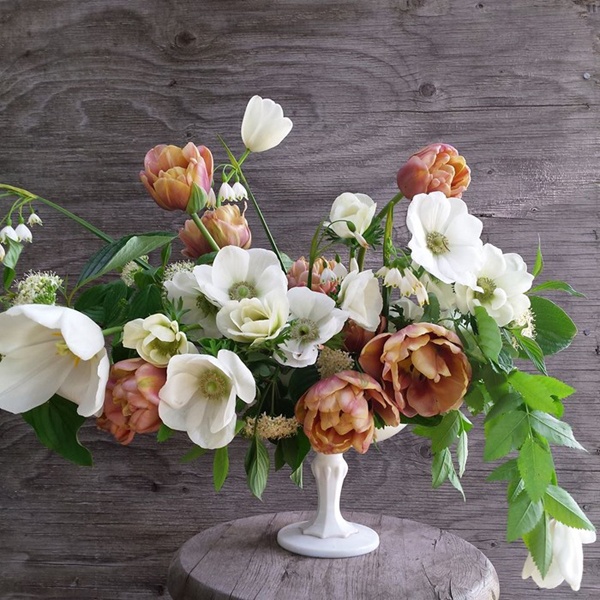 La Belle Epoch is a double late tulip, so it has good heat tolerance and long-lasting flowers. Not everyone loves caramel-colored tulips, so only a limited number of bulbs are produced each year. This pushes the per bulb price a little higher than average, but you can still buy two dozen bulbs for less than the cost of a nice dinner entree.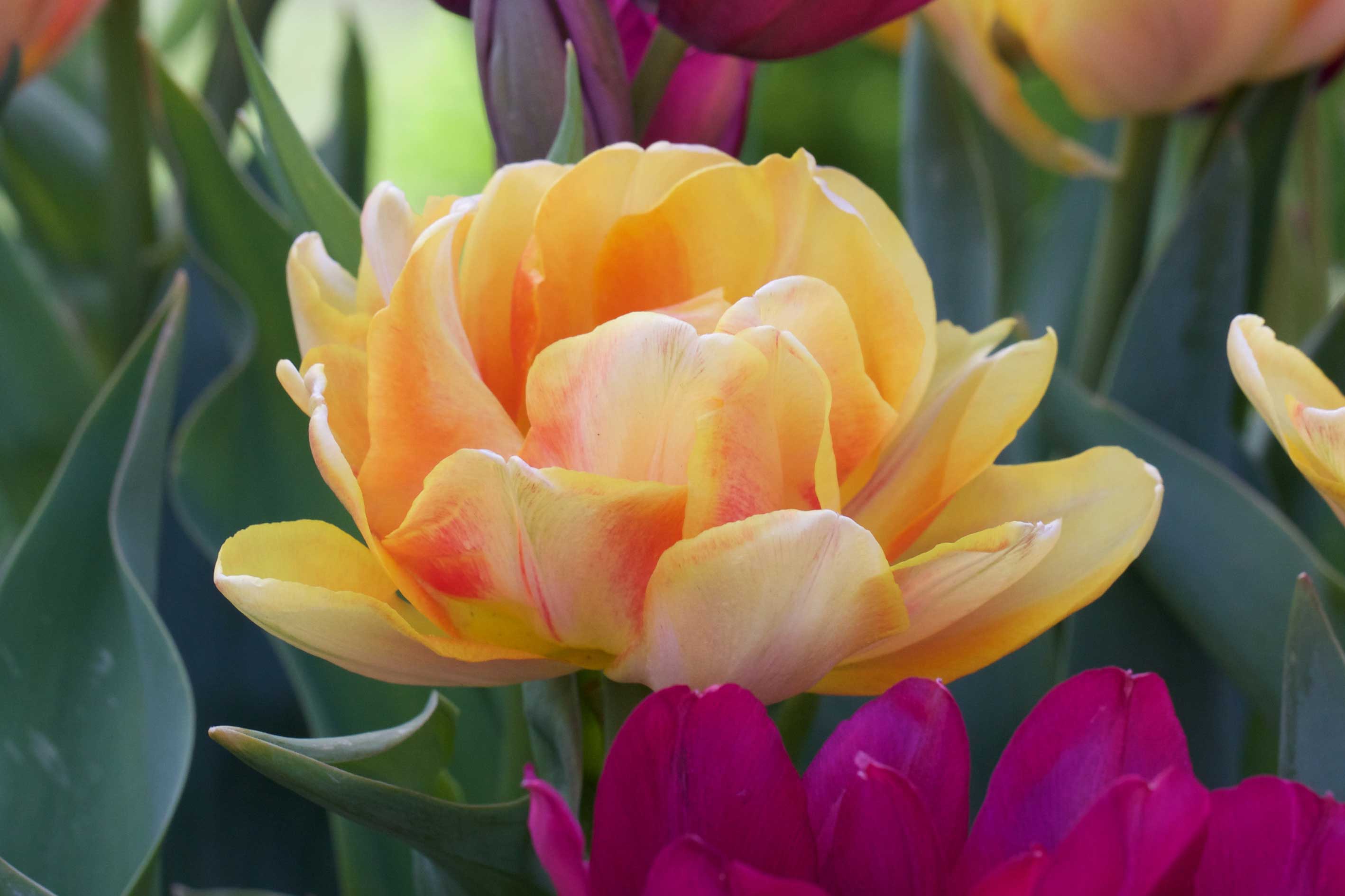 Foxy Foxtrot. This double-early tulip was a hands-down favorite in our trial garden last spring. The flower's gently ruffled petals are a breathtaking harmony of honey-gold, apricot and peach.
We paired it with purples, pinks and even reds and it looked stunning with them all. In fact, one of our new collections will include Foxy Foxtrot and Purple Lady tulips with Muscari armeniacum. As you can imagine, this tulip also makes a gorgeous cut flower.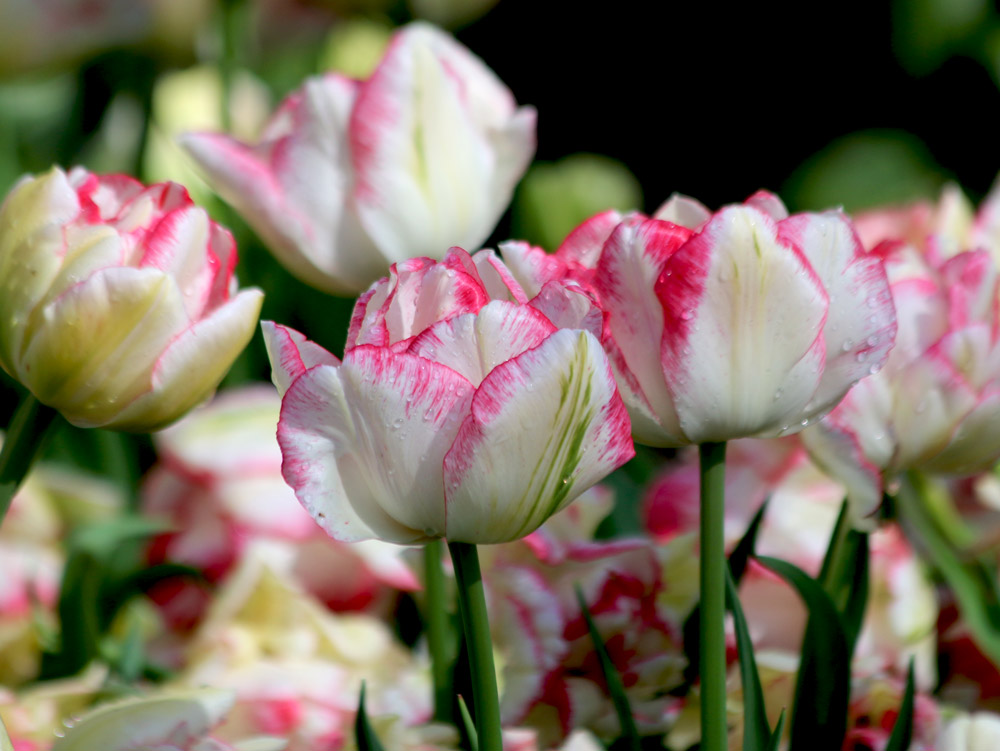 Cartouche. This double late tulip gets more and more beautiful each day. The flowers start out white with rose-pink edges (as shown above). Over time, the color gradually spreads across the petals until the blossoms are more red than white.
Like parrot tulips, Cartouche opens wide as it ages, which gives the flowers extra character and movement — especially in a vase. You also get multiple blossoms on almost every stem, so it takes only a few bulbs to get a big show of color.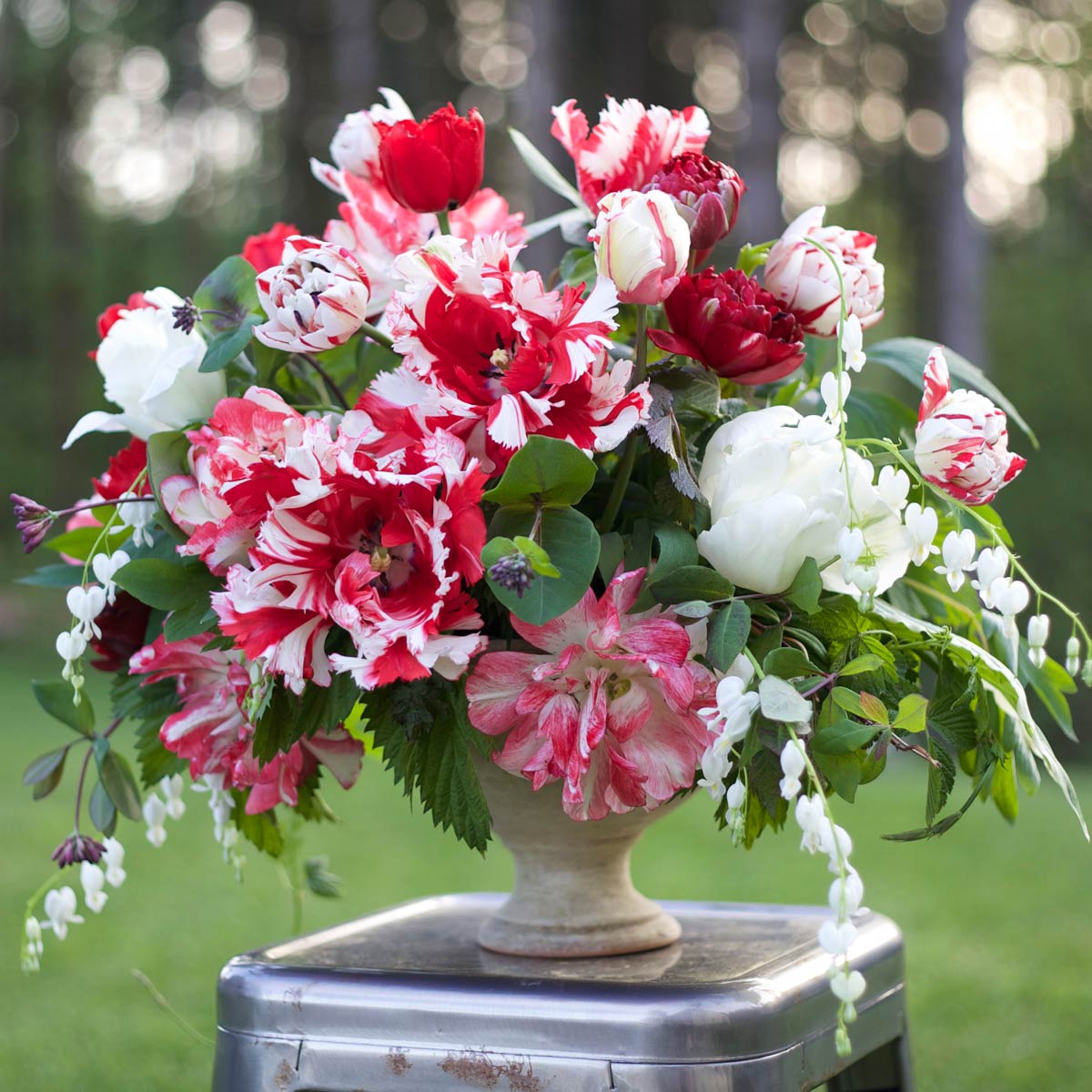 Flirty Fleurs Red and White Tulip Collection
Floral designer Alicia Schwede of flirtyfleurs.com planted Cartouche in her home garden last fall and used it in a stunning spring flower arrangement (shown above). That's Cartouche in the lower center of Alicia's photo, showing how the flower changes color and shape as it matures.
Inspired by Alicia's artistry, we are offering a Flirty Fleurs Red and White Tulip Collection that includes all six of the tulips used in the arrangement: Cartouche, Red Wing, White Parrot, Carnaval de Nice, Midnight Magic and Estella Rijnveld.
Ready for more? We have added another 15 varieties to this year's offering of tulip bulbs, increasing your choices to 150 — and that's not counting pairs and collections. The time for planting tulips is only a few months off. Click HERE to take a look at what's available for fall planting and reserve your favorites.