Our Top 10 Daffodils and Why We Love Them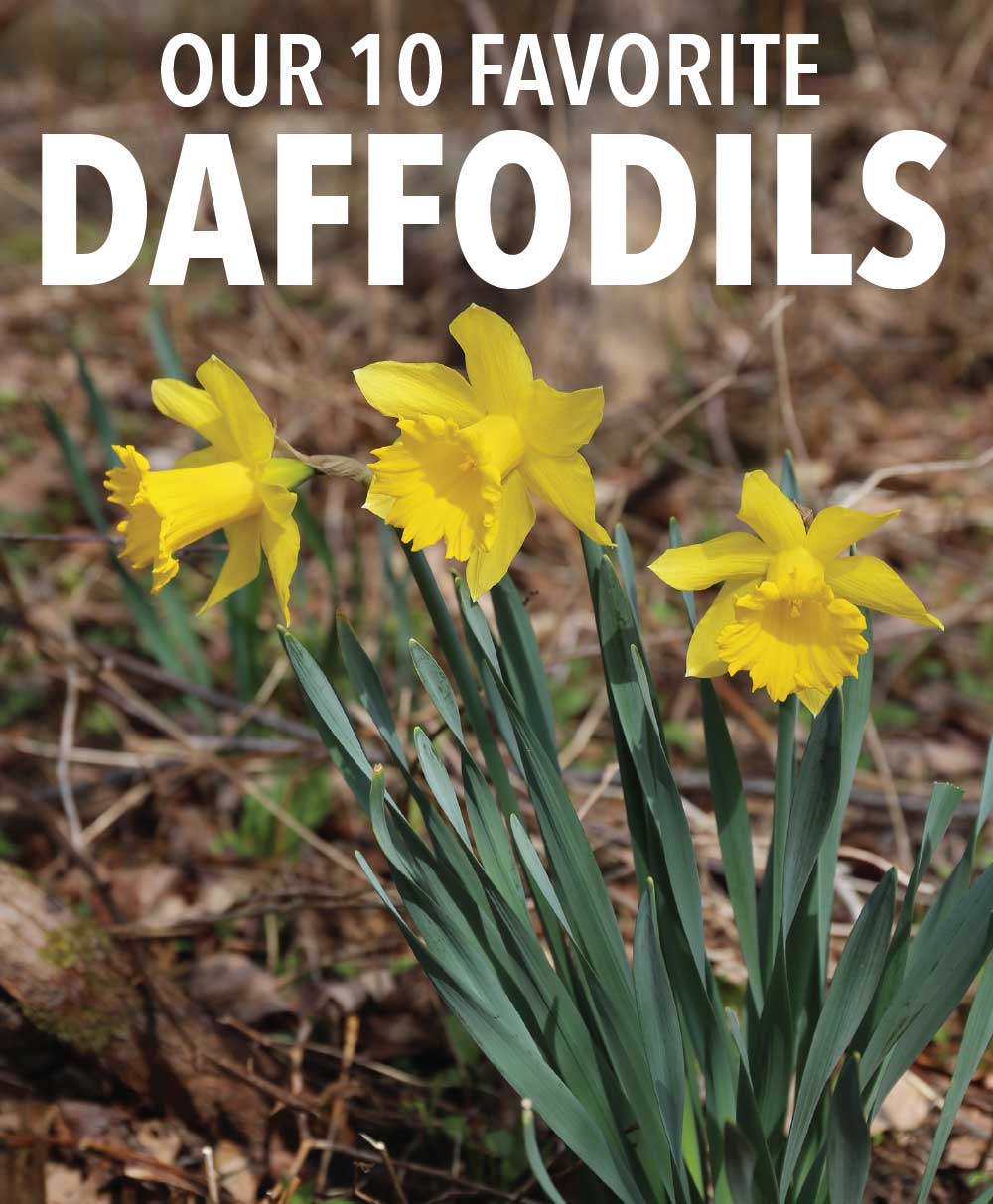 If I had to choose my favorite daffodil, I'd probably pick a yellow one with a big trumpet. Yellow trumpet daffodils are far and away the world's most popular style. But why stop there when the daffodil world has so much more to offer!
According to the American Daffodil Society, there are 13 official flower types and 25,000 named cultivars! As you can imagine, this makes it challenging to keep our daffodil selection under control. We usually offer about 40 different varieties, and to make sure they're the best, we reevaluate our line every spring. Deciding which ones make the cut is based on how well they perform in our trial garden, our home gardens and in Holland.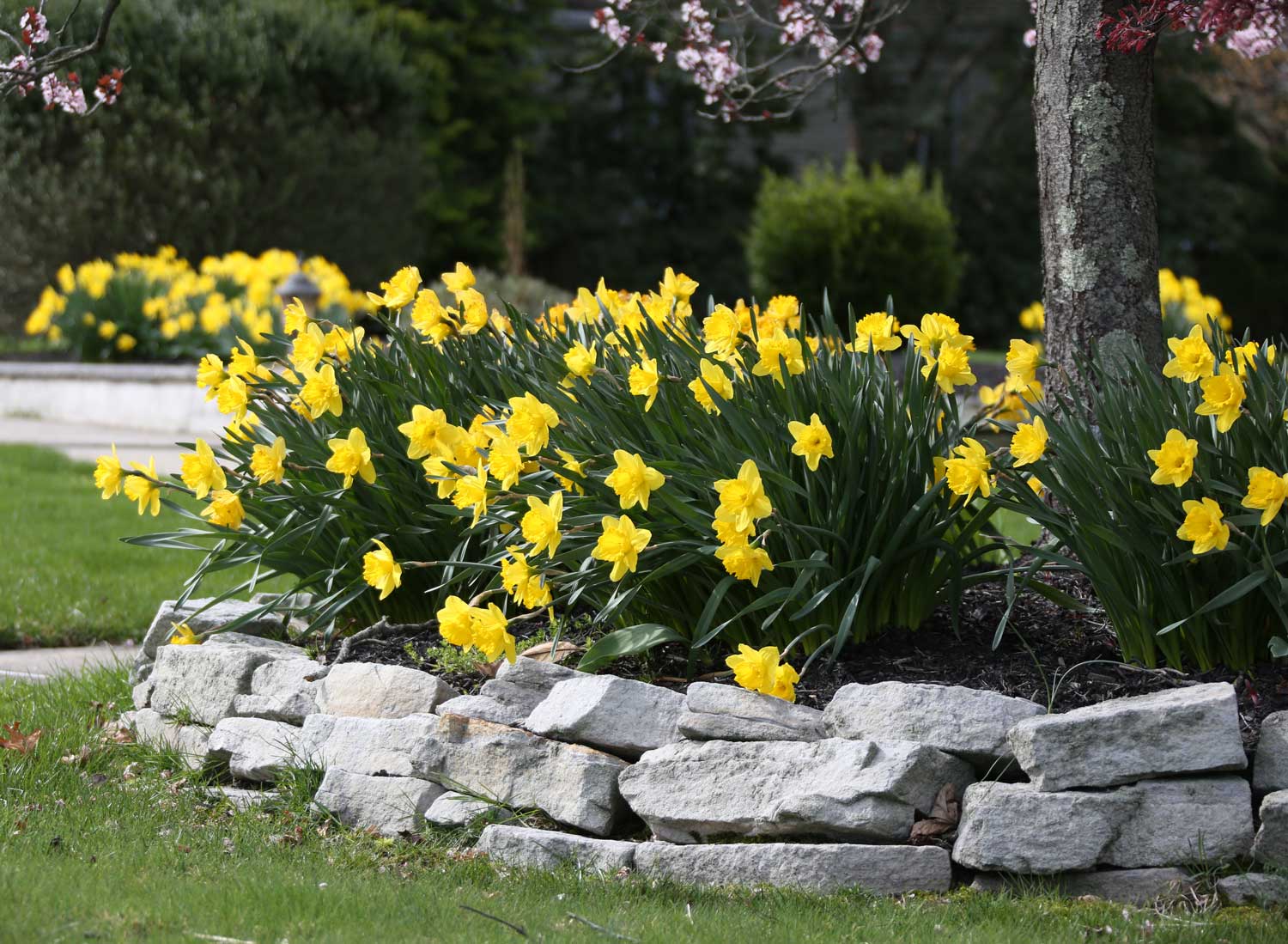 As always, this year a handful of daffodil varieties proved to be sturdier, longer-lasting and better looking than the rest. Honestly, these top performers don't change much from one year to the next. The best varieties have what it takes to deliver a great show of color every spring.
If you have room in your garden to add more daffodils, here are the 10 must-have varieties (in no particular order) that are always at the top of our list:
1. Barrett Browning
This daffodil is easy to recognize. The pure white petals surround a brilliant, red-orange cup. A golden yellow halo surrounds the base of the cup and adds to the glow. Barrett Browning is an early bloomer, an excellent naturalizer and it holds up well in warm climates.
2. Dutch Master and Yellow River
These two interchangeable varieties are very similar to King Alfred, a classic yellow trumpet that's no longer in cultivation. Dutch Master and Yellow River have large, egg-yolk-yellow flowers with big trumpets. Great for massing and naturalizing. Blooms early, is vigorous and has a bold presence in the landscape.
3. Goblet
The perfect partner for Dutch Master or Unsurpassable. Goblet's very large flowers have pure white petals surrounding a widely flared and ruffled yellow cup. A yellow halo at the base of the trumpet gives the blossoms an even sunnier look. Reliable and so beautiful.
4. Orange Progress
Always in our top 5.  Extra-large flowers and extra-bright colors make Orange Progress a great choice for your front yard or anywhere you want to attract attention. The blossoms have thick petals and lots of presence.
5. Pink Pride
If you have yet to grow a pink daffodil, here's where to start. Pink Pride's flowers are very large and have broad, thick, snow-white petals. The prominent, ruffled cups open apricot and age to coral pink. Blossoms face outward and slightly upward, which makes them extra showy in the garden and great for cut flower arrangements.
6. Tahiti
This is one of the all-time greats. This double, mid to late season daffodil features layers of rounded, golden yellow petals, interspersed with frilly, red-orange accents. Tahiti's blossoms are large and full, on long stems. A multiple award winner, introduced in 1956. An outstanding and long-lasting cut flower.
7. Cheerfulness
There are so many reasons to love this daffodil… starting with the name! The double flowers are sparkling white with yellow highlights and are borne in clusters of 3 to 4 blossoms per stem. Cheerfulness is a tall daffodil, with slender stems and narrow foliage. It looks fabulous in a vase and has a wonderful, gardenia-like fragrance.  Bloom time is relatively late in the season.
8. Golden Echo
One of the best medium-size daffodils we grow. Golden Echo's flower size and height are perfectly suited for flower beds and containers. The blossoms measure about 3" across and have long, lemon yellow trumpets, crisp white petals and a striking yellow halo. They're fragrant and just the right size for mixed arrangements.
9. Jetfire
This was my first year growing Jetfire and I loved it. The flowers have bright yellow petals that are swept back from their long orange cups. They look like they are rushing full speed into spring. I grew Jetfire in terra cotta pots and the 10" height was perfect — no flopping. Even in unseasonably warm weather, they lasted a full two weeks.
10. Tete a Tete
An adorable little miniature daffodil and possibly the longest-blooming, most versatile variety we grow. It blooms early and keeps on going for weeks. Great in containers. The grassy foliage doesn't compete with the flowers and it fades away relatively quickly. Tete a Tete has been around since 1949, but there's still simply nothing else like it.
While I was writing this post, I read an article in American Gardener magazine featuring daffodil expert Jason Delaney. It was fun to see how much our favorites lists overlapped!  The American Horticultural Society gave me a link, so you can read the full article HERE.
Want to learn more about growing daffodils? You might be interested in: Best Daffodils for Naturalizing, Types of Daffodils to Know and Grow and All About Daffodils. To shop our complete selection of daffodils, click HERE.