The Flowerhouse – A Blooming Showcase of Past, Present and Future

It was a signature Michigan autumn evening: crisp, cool and a little windy. The chill in the air didn't deter the big crowd that gathered to celebrate the 10th and final Field to Vase Dinner and celebration of the Flowerhouse in Hamtramck.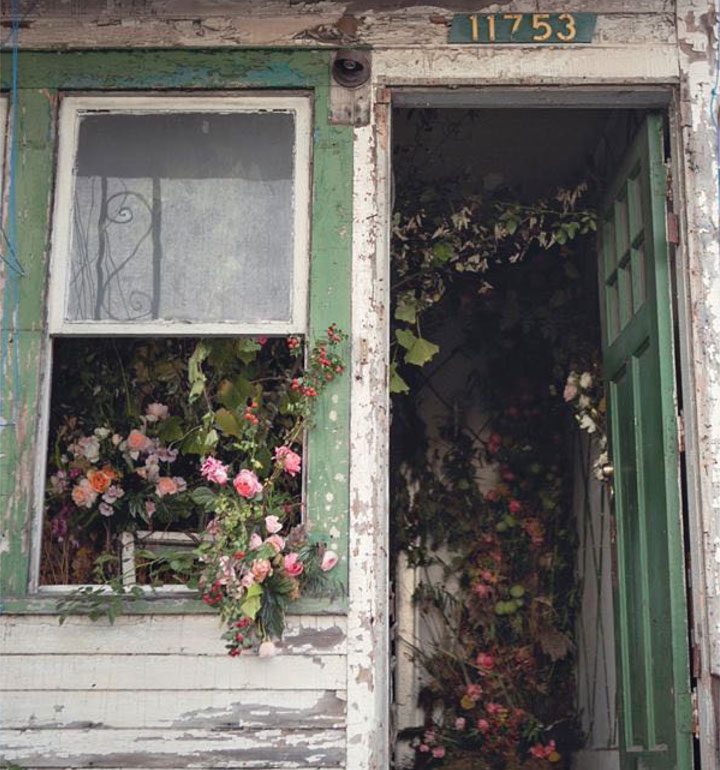 While driving into the area, I was struck with the reality of what the downturn in the economy had done to areas like Hamtramck, a town located in the heart of Detroit. The streets were lined with grand homes, sitting vacant, destroyed by fire or taken back by nature. When I pulled up to the Flowerhouse on Dequindre Street, I was immediately impressed. The house was adorned with flowers around the outside and an elegant white tent filled with lights was set up next to the home. I could not wait to get into the house to take a look!
As I explored, I learned that Lisa Waud, Susan McClearly (Passionflower) and their team of talented florists turned the abandoned house (that Lisa bought for a few hundred dollars on auction) into an installation of art consisting of around 40,000 flowers in as little as 48 hours. Moving from room to room I discovered a flow of blossoms, foliage and vegetables that guided me into different areas of the house. There were staircases lined with roses and irises, tulips hanging from the ceilings and a kitchen draped with peppers, dahlias, root vegetables and foliage. I entered a room that featured a twirl and tangle of foliage coming from the floor and opening up to fill most of the ceiling. I'd heard another guest call a 'flora-nado' and that is exactly what it looked like – a tornado of flowers and foliage! There was a bedroom adorned with a flowerbed fit for Mother Nature and a bathroom thatfeatured a curtain made of a swath of orange flowers.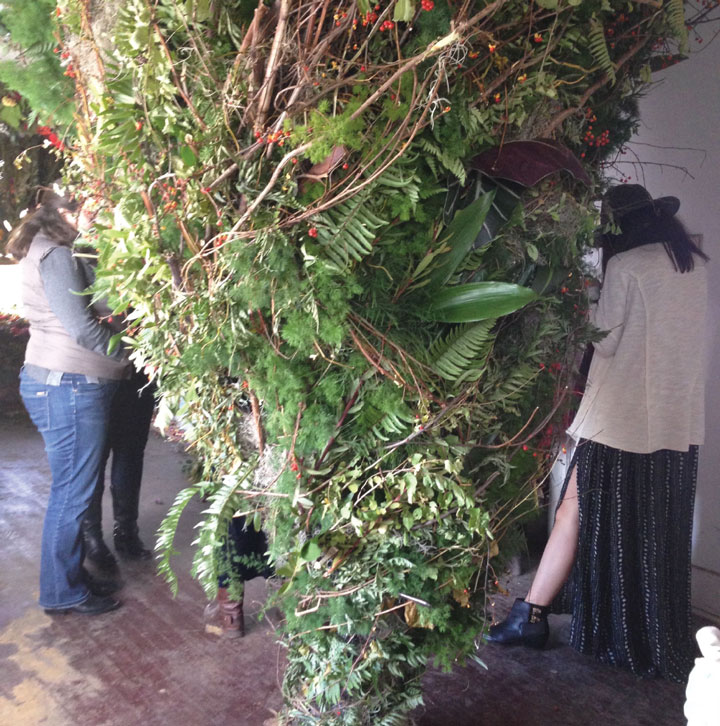 So much detail and effort went into carefully planning and crafting each floral display and mural. It was so well done I stood there in awe at the showcase of talent I was surrounded by. It was an artistic push-pull of soft floral beauty set against the peeling paint and worn boards of the old house. Here's a link to a great video showcasing the project.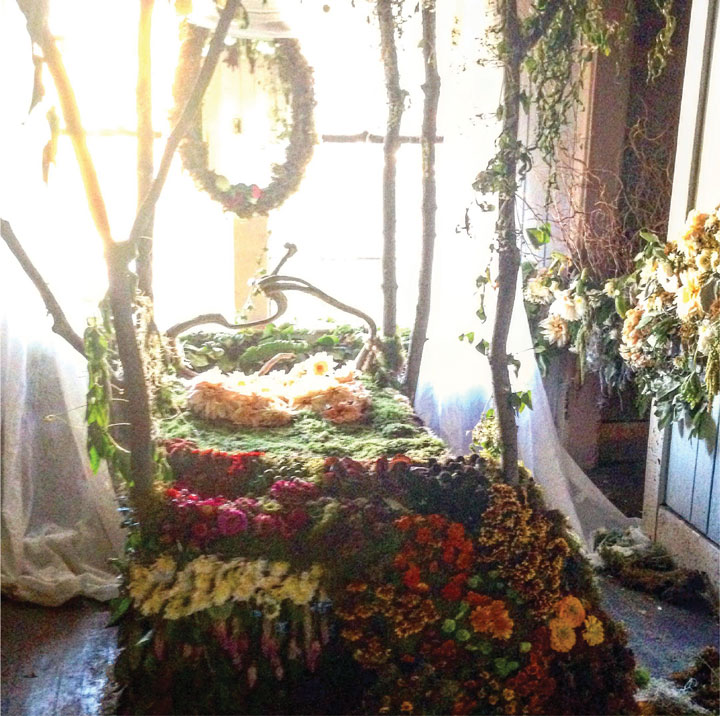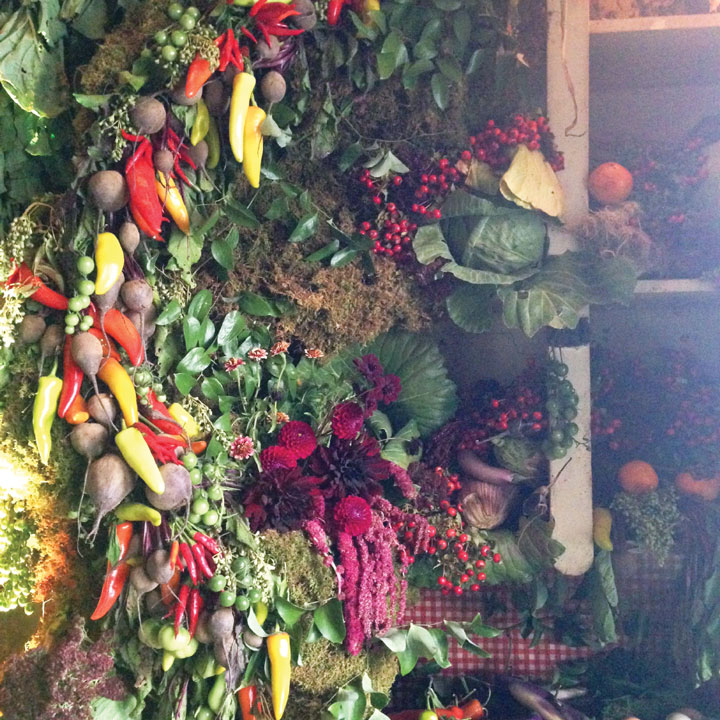 Although the night kept getting colder and colder and the wind was blowing through the house, it could not put a chill on Lisa's smile as she greeted guests and talked about her passion for the project. I already felt overwhelmed with what I saw while walking through the house, but I was not prepared for what dinner would bring.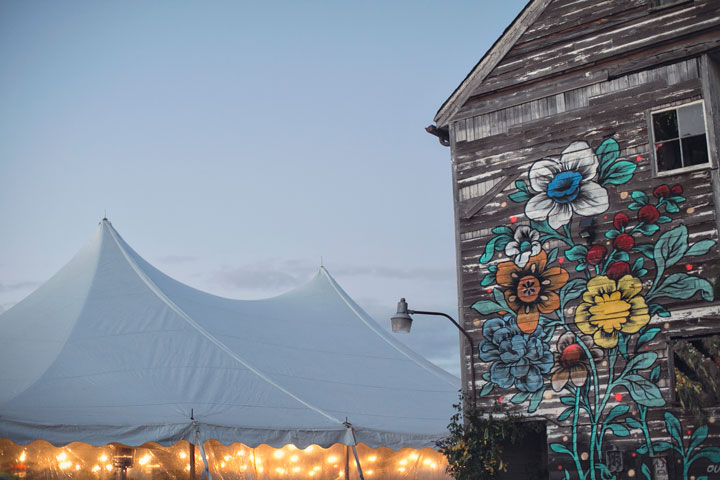 Photo courtesty of Heather Saunders
With a focus on supporting local business, dinner under the big white tent was nothing less than impressive. Every detail from the homegrown centerpieces, to the food prepared by Eat Ann Arbor, to the wine were perfectly orchestrated and reflected the taste & flair of Michigan-grown goodness. American Grown once again put together a dinner tour and experience like no other! The attention was on the local farmers, farms and florists; all who came together to share in their passion for preserving American grown flowers and who were there to celebrate and dine on the land of a future farm.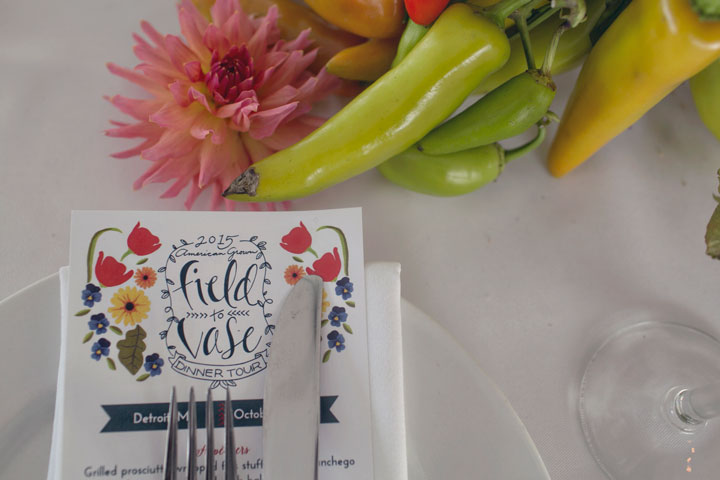 Photo courtesty of Heather Saunders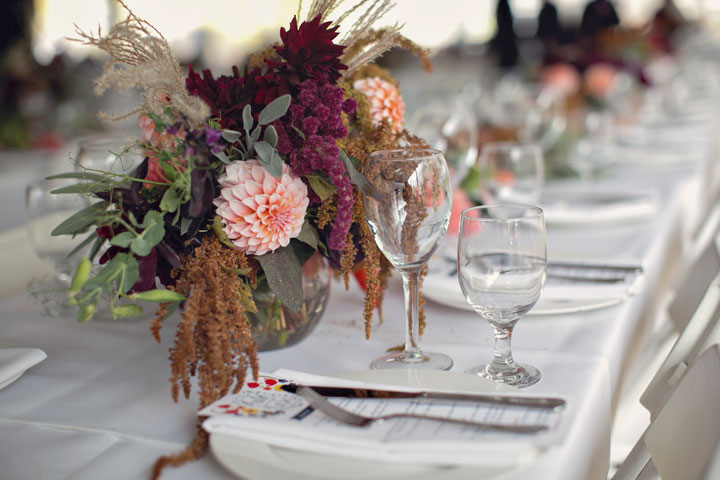 Photo courtesty of Heather Saunders
Toward the end of dinner, Lisa passionately talked about her journey from purchasing the house without ever setting eyes on it, to eventually feeling connected to its history and responsible for its future. I am pretty sure there wasn't a dry eye in the place! She talked about her plans to work with Reclaim Detroit who will responsibly deconstruct the house, reusing about 75% of the materials for other projects. She plans on converting the plot of land into a cut flower farm to support her floral business, Pot & Box, as well as the local economy.
The house at 11751 Dequindre Street was once a home where families shared their lives, hopes and dreams. This abandoned house is now a beacon of hope for what the future holds. The land will once again be a place where people and flowers can flourish, in a community that deserves to start growing again.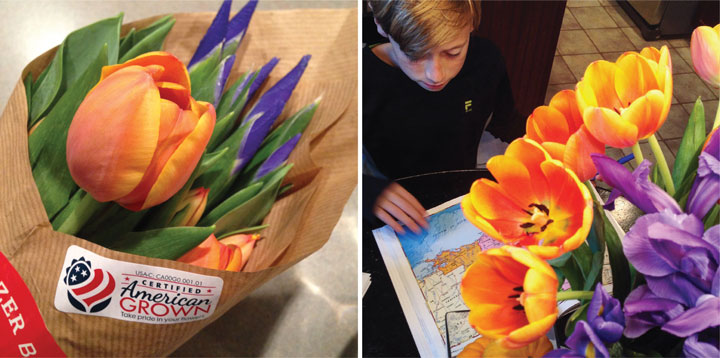 The evening was perfect; the house was amazing, the food was incredible, the energy was inspiring and the gift of cut flowers from Stargazer Barn were gorgeous (my family enjoyed them at home long after the event – great homework inspiration for my son!). It was an experience I will never forget and I look forward to visiting Lisa's flower farm in the future.