Top Performing Dahlias for Summer 2016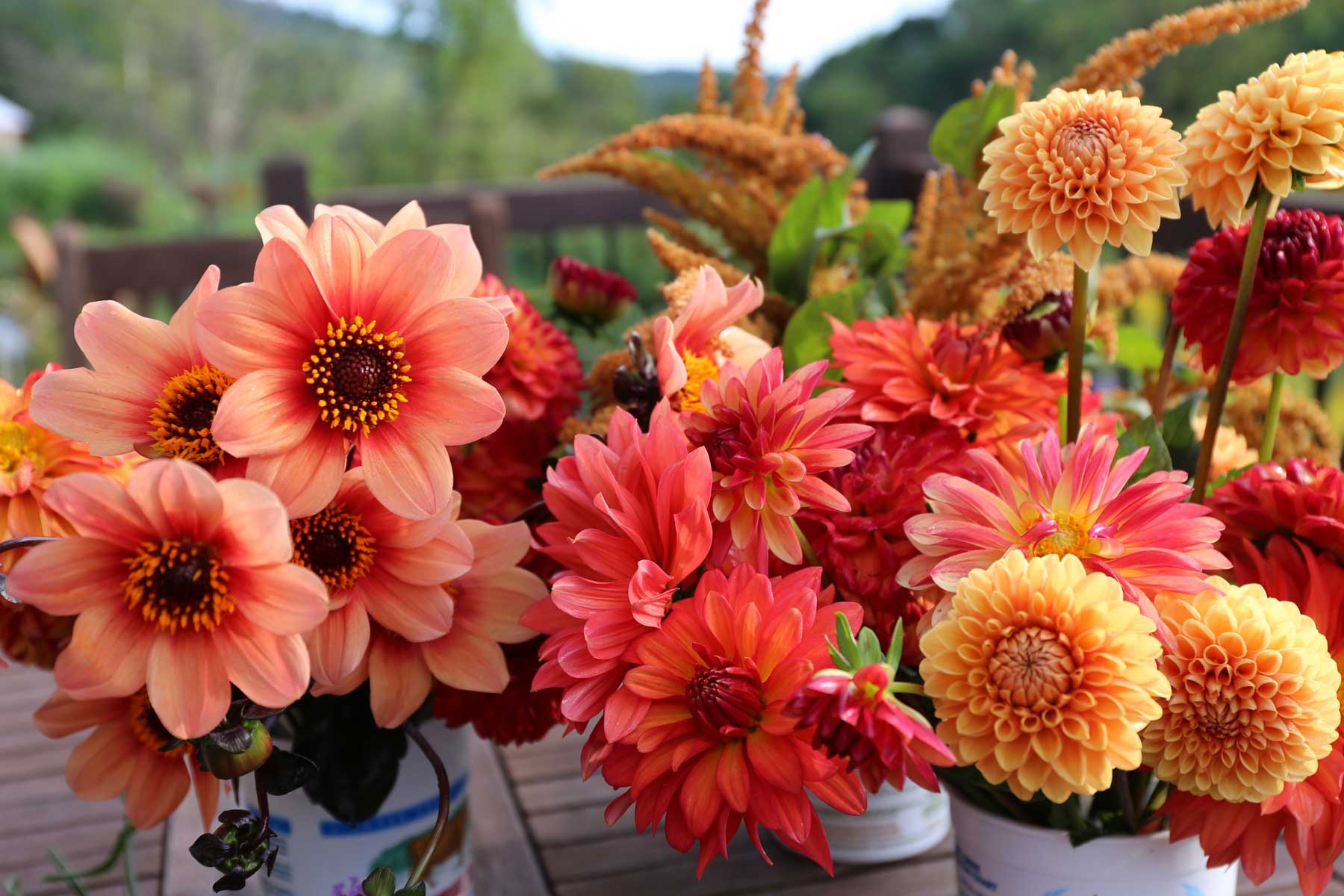 It's dahlia season and the plants in our New Jersey trial garden are starting to hit their stride. Where I live, in northern Vermont, my dahlias have been blooming for almost a month already. The weather has been ideal for them — warm, sunny and a bit on the dry side.
Summers are relatively short here in growing zone 4, so I get a jump on the season by starting the tubers in pots about 6 weeks before planting them outdoors. This year I devoted most of my cutting garden to dahlias: 26 varieties and 40 plants. Here's a look at 5 that are early season standouts.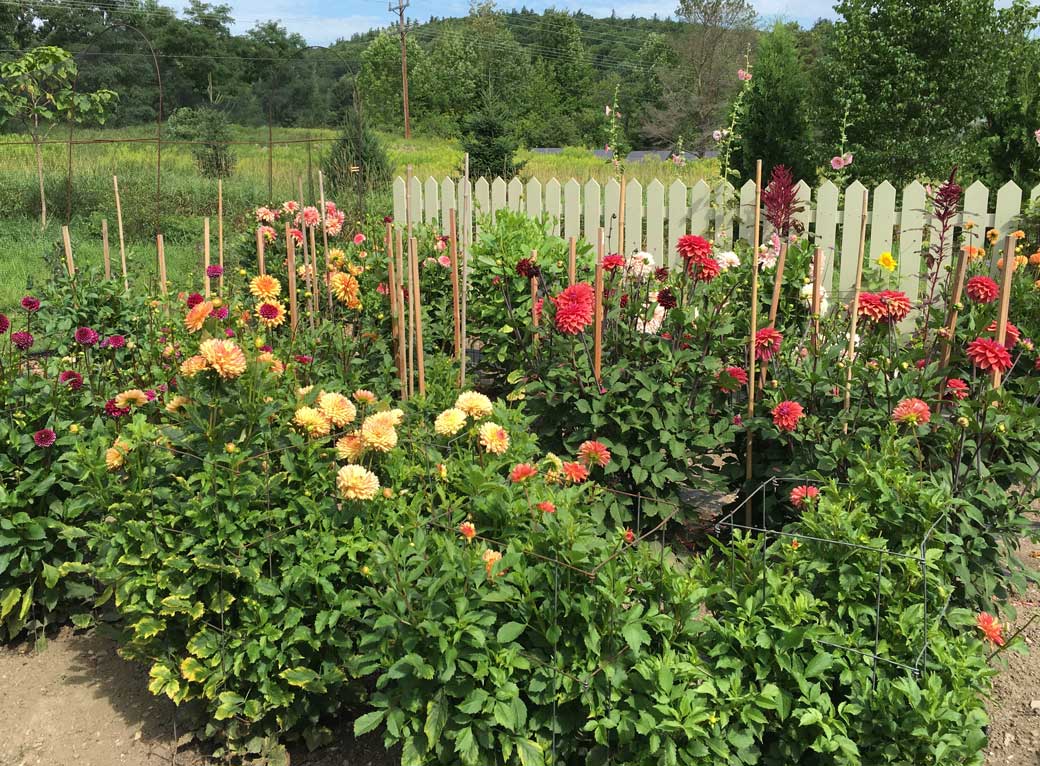 Dahlias look like they'd be fussy, but they aren't. For best results you'll want to give the plants some support (I use tomato cages or wooden stakes — see above). Then only thing you need to do for the rest of the season is deadhead. This keeps the plants looking clean and helps stimulate more buds. I also find that getting rid of any fading flowers discourages earwigs and minimizes disease problems by improving air circulation.
I'll probably still have dahlias blooming in October, so it's a little early to call the winners, but here's a quick run down of the varieties that have been impressing me.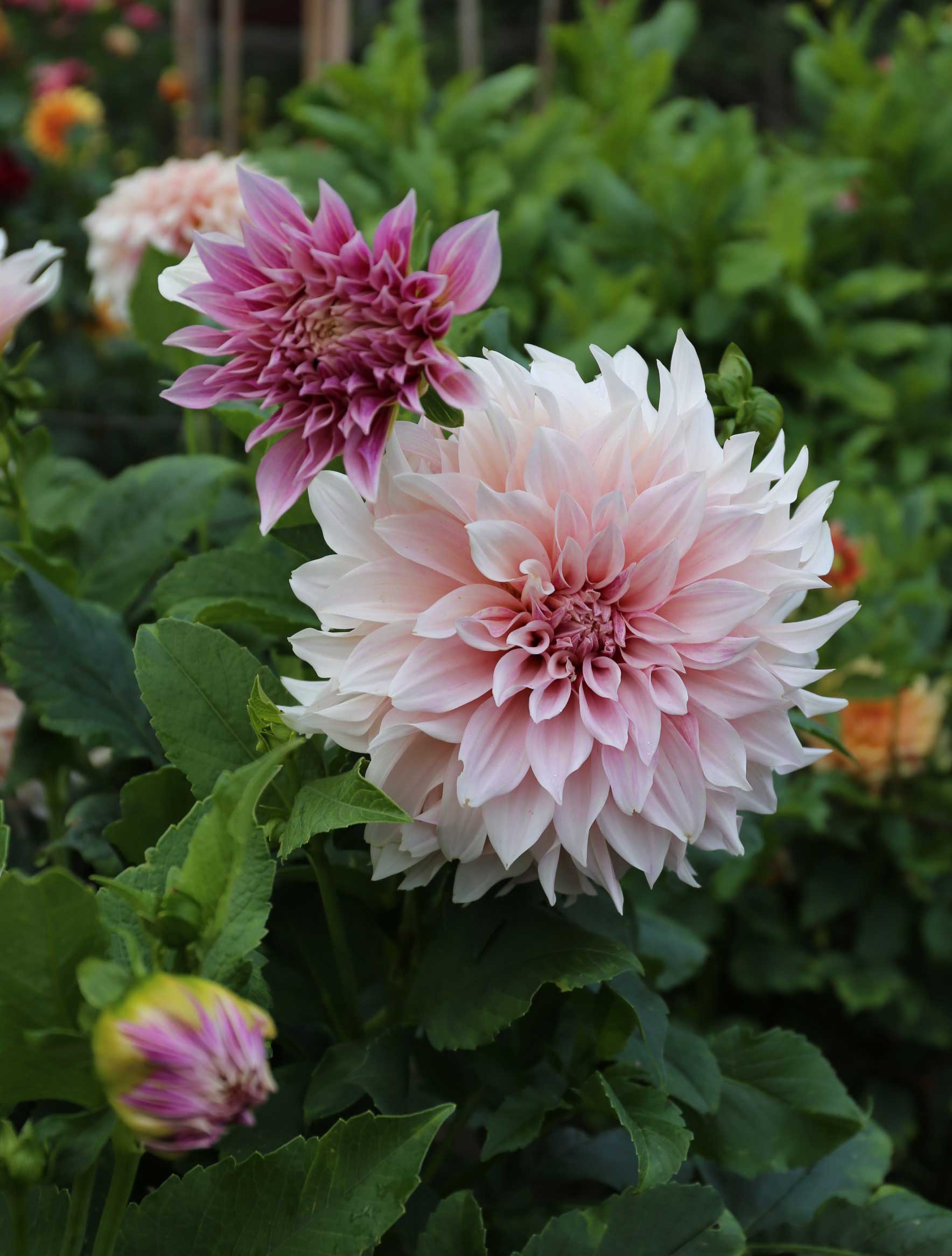 Café au Lait –Now that I've grown it, I can see why this variety has a cult-like following. Cafe au Lait is a favorite for summer bridal bouquets (you can search for it by name on Pinterest!). Its flowers are enormous (8 to 9″) and the color is extraordinary. The buds are striped and the blossoms can be pale pink, buff or almost white – all on the same plant.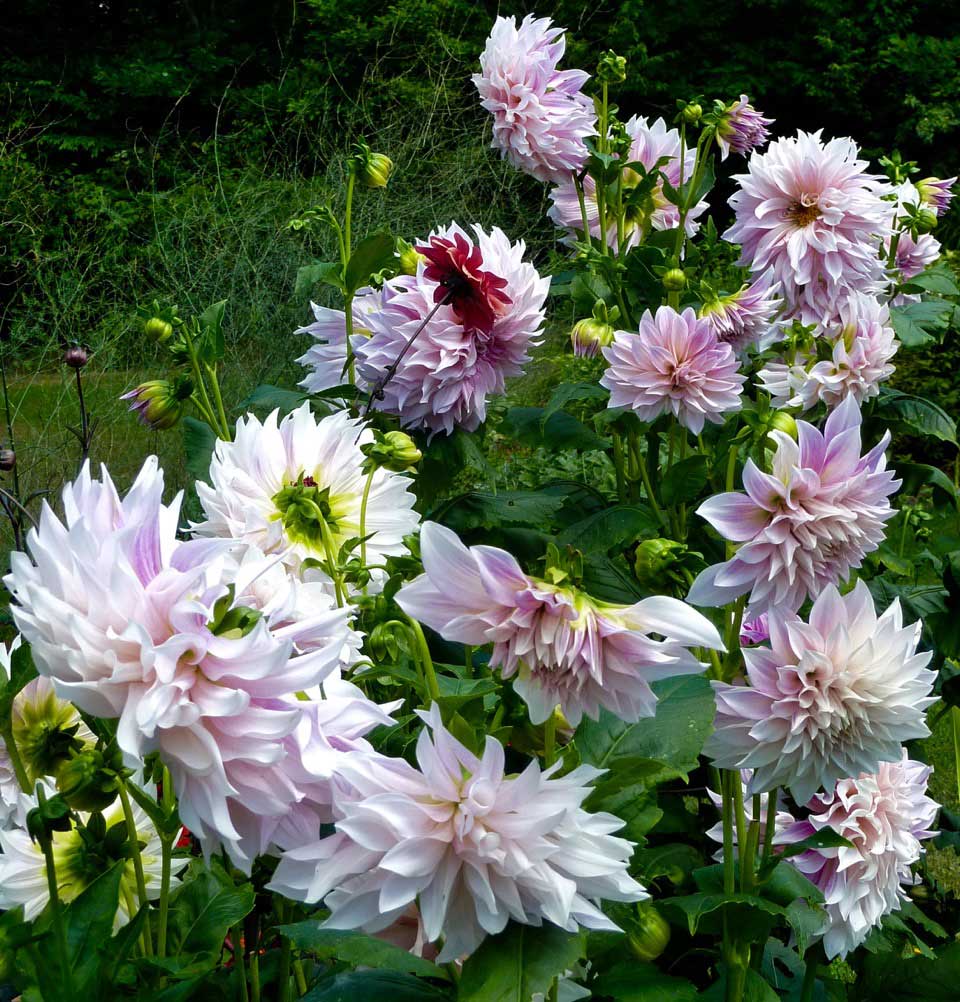 In the shot above, taken at a friend's house (I gave her a couple of the plants I'd started in pots), you can see that Café au Lait is also a very strong grower. That's just two plants displaying at least eighteen BIG flowers!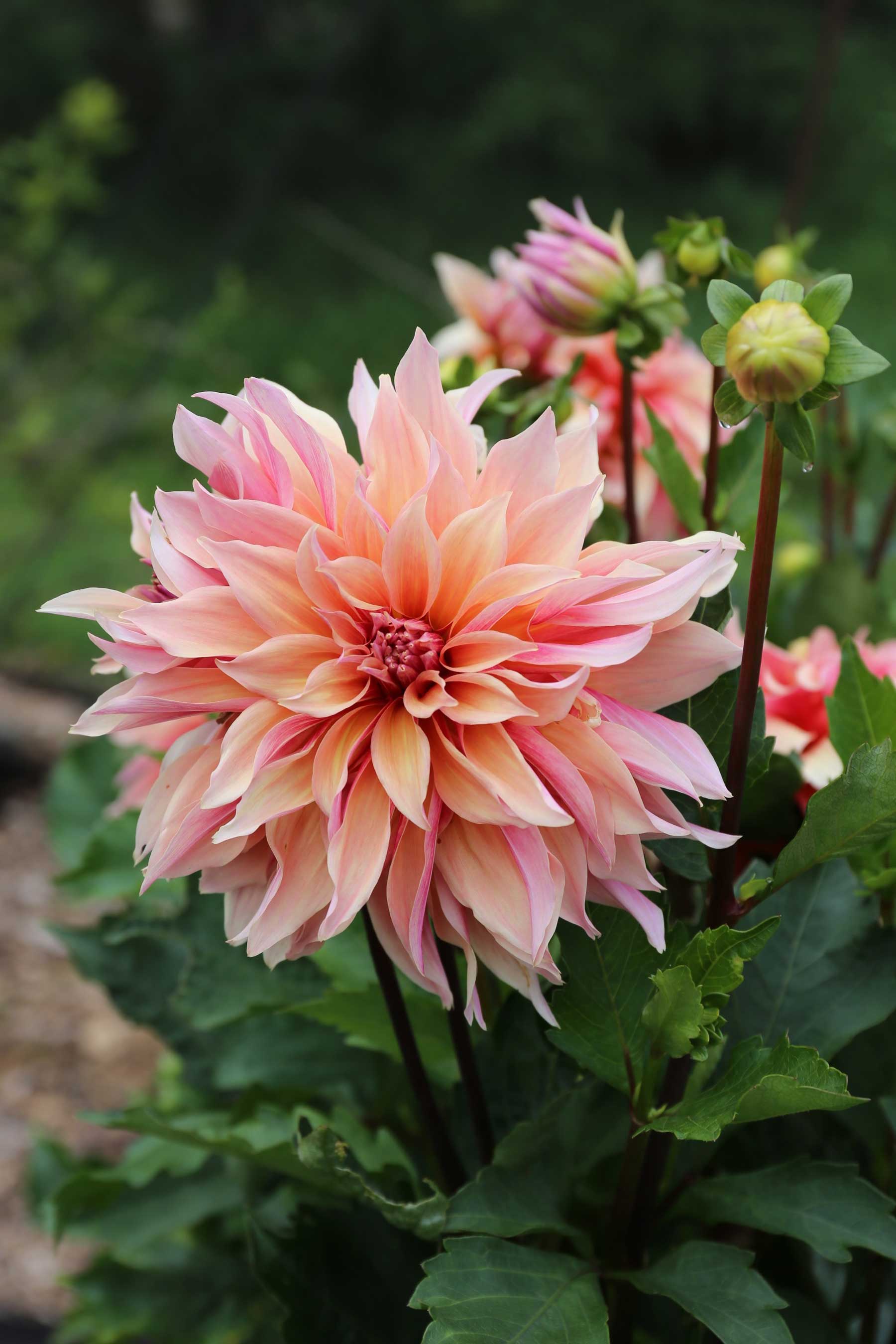 Labyrinth – My new favorite. I took a gamble on this variety because the photo on our website makes it look a bit drab. As you can see, Labyrinth is anything but drab. It's the color of a summer sunrise – peach, pale pink and gold.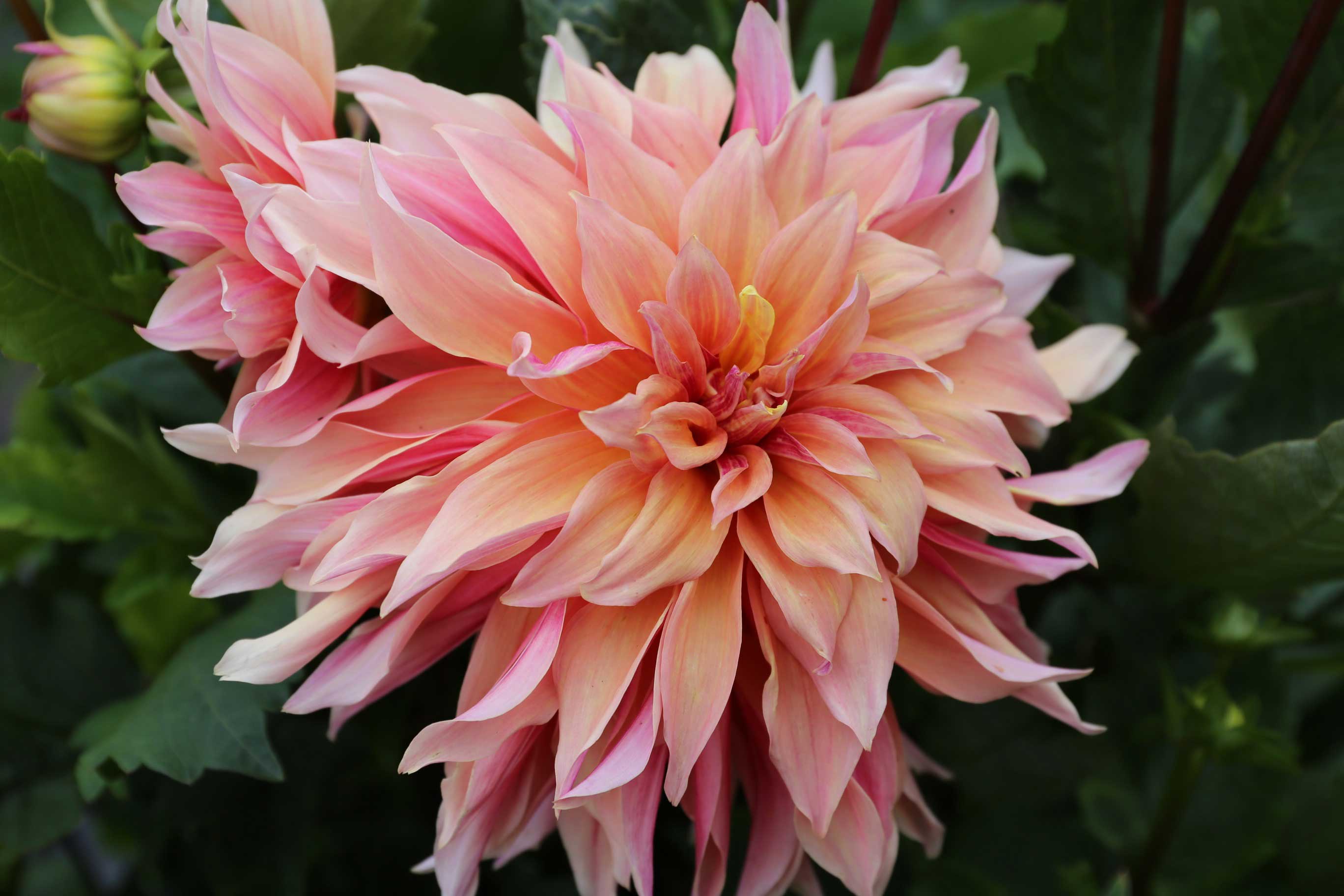 Labryrinth's twisty petals accentuate the color variations and give the flowers a shaggy look. The plants are producing flowers that range in size from 8″ to 5″, which is fantastic for bouquets. I just can't stop photographing this one.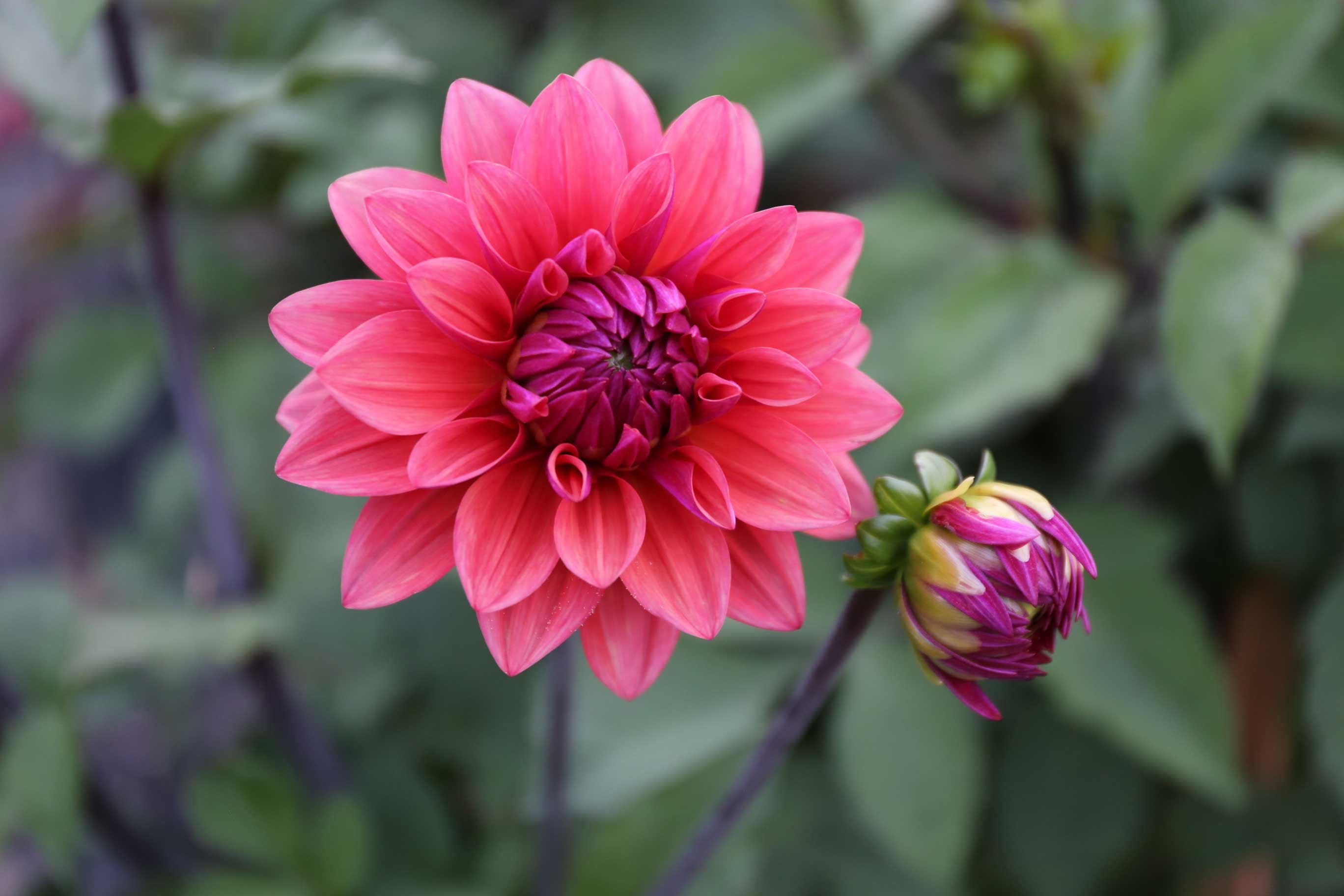 American Dawn – The flowers of this mid-size dahlia are a mesmerizing color combination of apricot-rose and violet. I had a garden party here a few weeks ago and American Dawn attracted even more attention than Cafe au Lait. And that's saying something.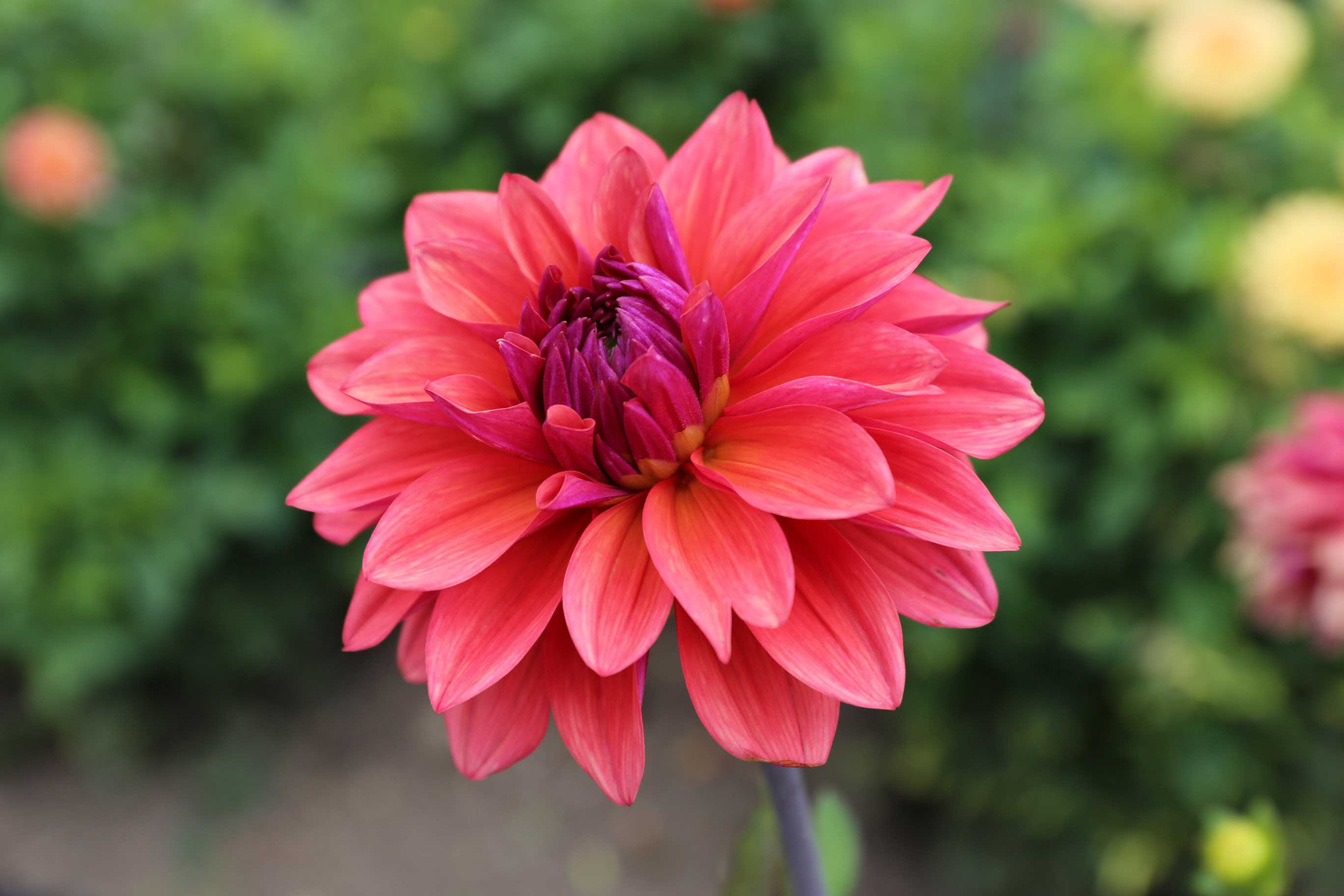 The plants are producing an incredible number of flowers – 6 to 8 at a time, with nice, long stems. As the blossoms mature, the violet fades and the apricot deepens to terra cotta. If you haven't grown this dahlia, you ought to give it a try.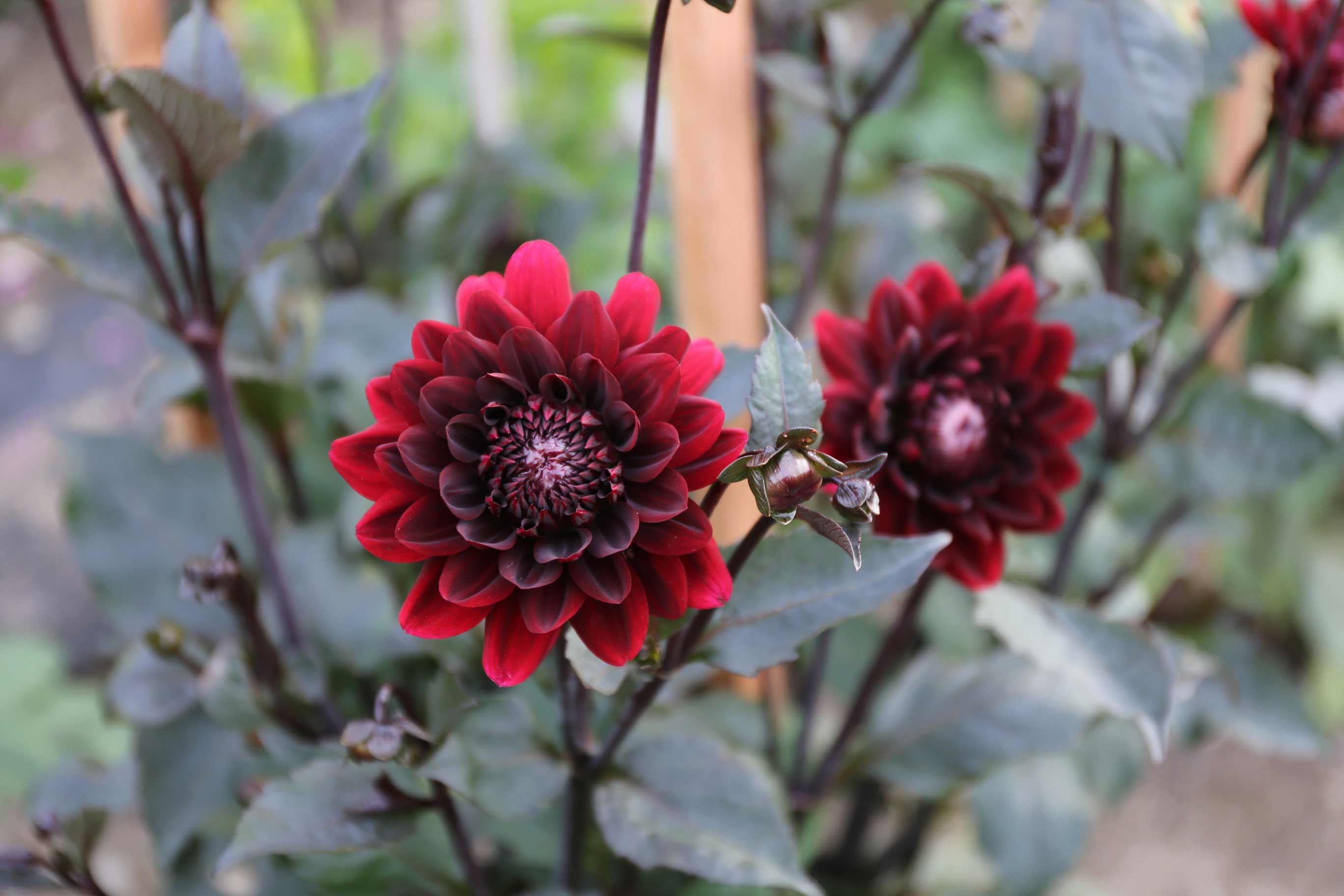 Karma Chocolate – These tight, 4 to 5″ flowers are velvety maroon when they first open. Over time, the outer petals brighten to dark red and then gradually go pale at the tips. If you're a fan of red velvet cake, you need this dahlia!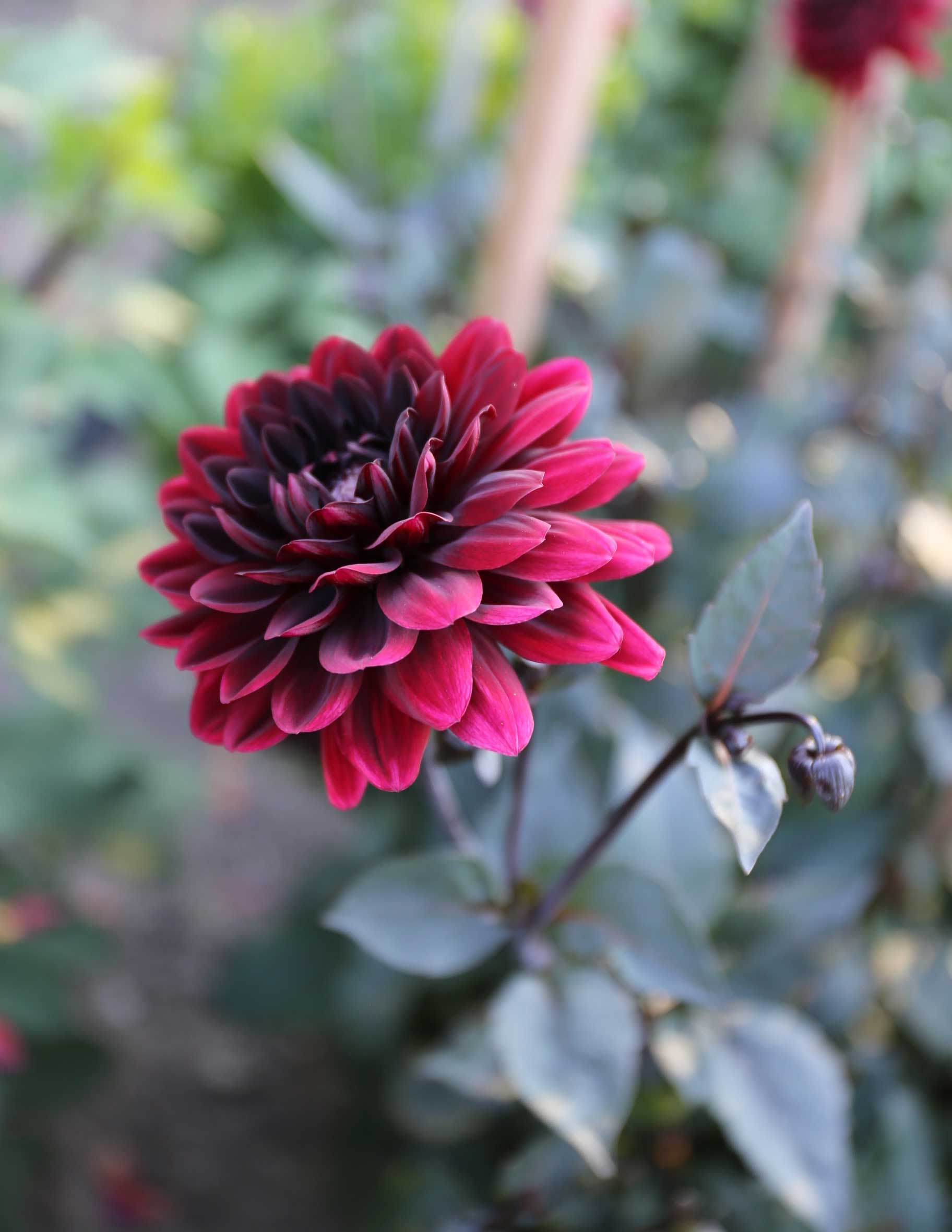 Karma Chocolate is a wow in flower arrangements. With its dark foliage and bushy habit, it would be an outstanding addition to a perennial garden — which is where I'll be growing it next year!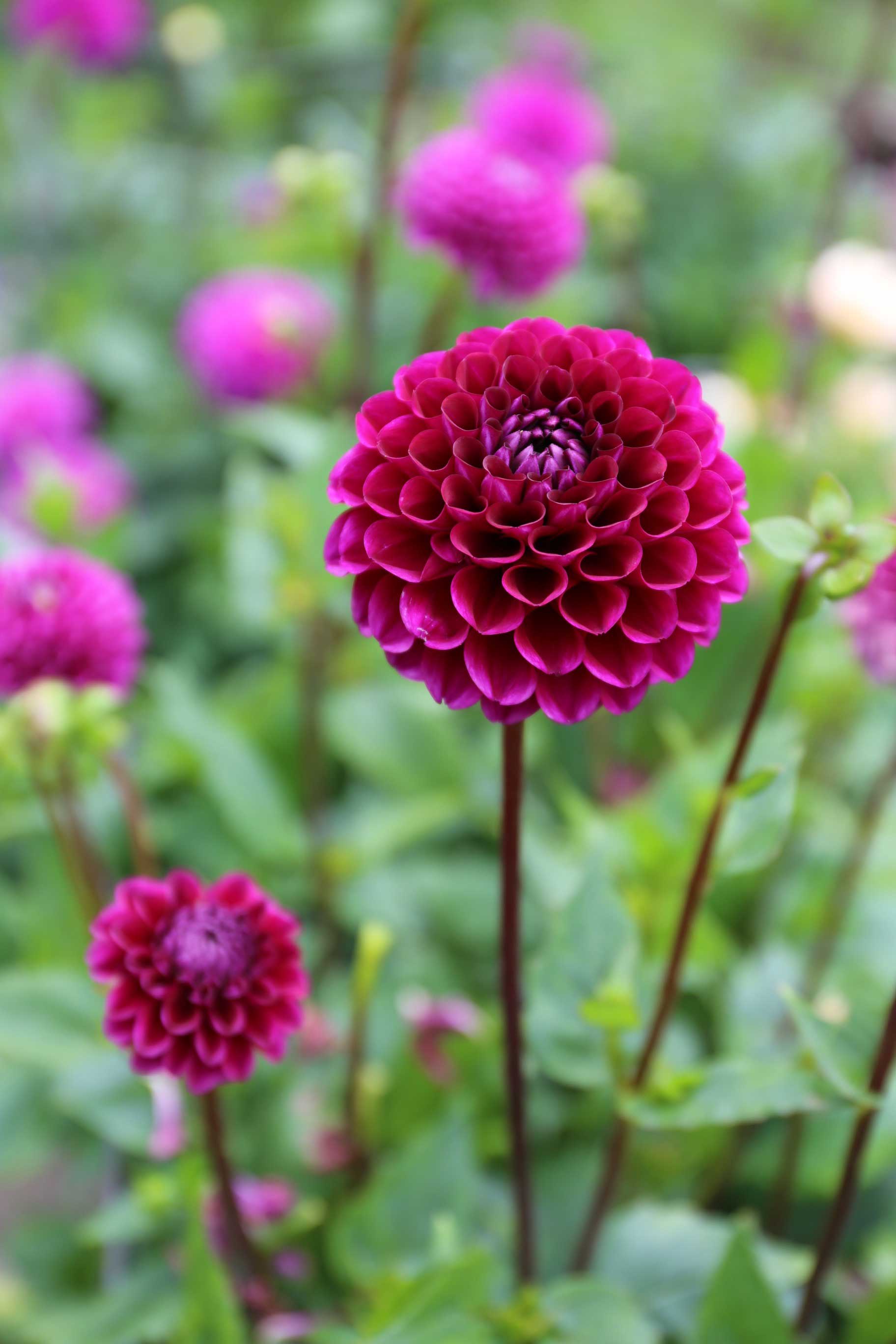 Diva – I grew this dahlia last year and it's just as impressive the second time around. It's incredible how many blossoms the plants produce. Diva's compact, 3 to 4" flower heads are a great size for bouquets and their rich, raspberry-violet color complements pretty much everything — orange, yellow, pink, purple and even red.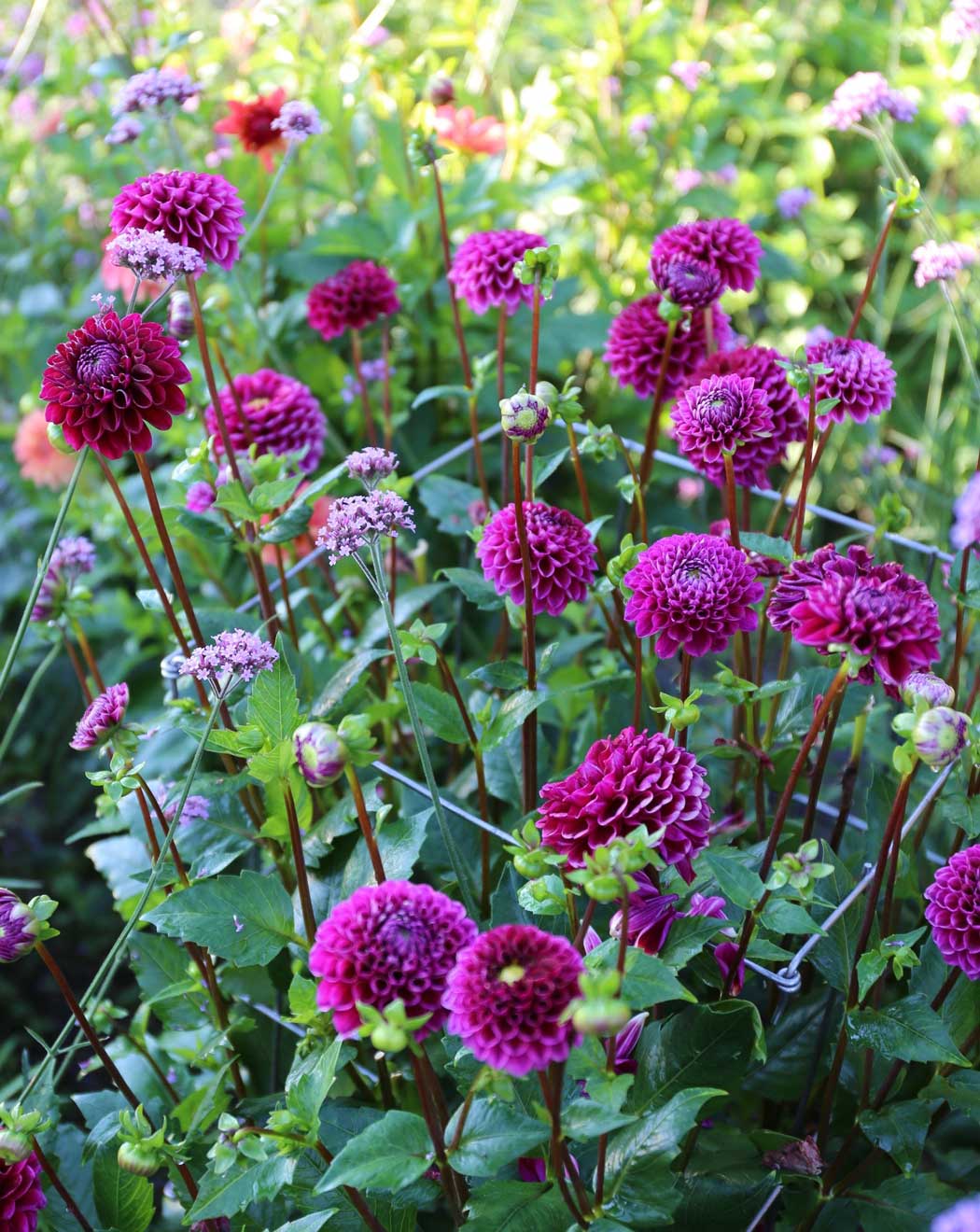 What are your favorite dahlias this summer? We are selecting varieties for 2017 and would appreciate any suggestions. Please leave your comments below — thanks!